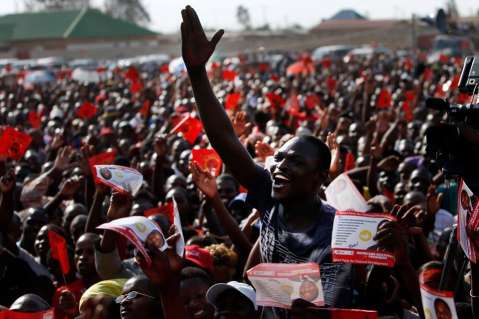 THERE is no justification for anybody to support the stripping naked of anybody in public on account of an opposing political affiliation.
It is even worse when the victim is a female, probably a mother as it shows  total and contumelious disregard of cherished human values.
In  fact, stripping naked of anybody in public is indecent assault which is a criminal offence.
Therefore, the undressing of Mazabuka Central constituency Patriotic Front chairlady Joyce Kangwa by United Party for National Development (UPND) is not only inhuman, unjust and uncouth but also a criminal offence.
The UPND cadres who stripped naked Ms Kangwa committed a moral offence that has serious criminal imputations and those culpable must be arraigned before the courts of law.
Police officers should heed the directive from their command to apply the law fairly regardless of people involved. We therefore expect that the Police in Mazabuka will act professionally and expeditiously to bring the culprits to book.
This kind of political violence on the part of the UPND or any other party for that matter cannot be tolerated in Zambia or any country boasting credentials of being a democracy.
In a democracy such as ours, it is expected that all Zambians enjoy their freedom of association without interference. Every individual enjoys the freedom of expression and association regardless of the geographical or political location.
A person living in Mazabuka, assumed to be a UPND stronghold, must be free to hold and express an opposing view.
It is also the expectation of Zambians that political players co-exist despite preaching different ideologies.
With general election barely six months away, Zambians are expecting an issue based campaign devoid of violence which has  marred some of the past elections.
The justification that Ms Kangwa was stripped naked because she flashed a PF symbol towards UPND cadres is not only laughable but also ridiculous.
How can anybody think in such a nonsensical manner and expect to be respected by the normal thinking public?
It must be understood that flashing one's political symbol is a sense of belief in one's political association.
The UPND leadership should prevail over this behaviour of its cadres who stripped Ms Kangwa naked and apologise.
The UPND should know that such reckless behaviour by its cadres has the potential to distance potential members from associating with the opposition political party.
Zambia is currently undergoing many serious social and economic challenges which need the undivided attention of leaders who are ready to confront them.
This, therefore, means that violence has no place in the political scheme of things.
Those who wish to rule Zambians should be as polite as possible to deserve the vote.
It is no longer business as usual as the political environment has changed or is about to change following the passing of the amended Constitution Bill in Parliament as it awaits Presidential assent.
This means political players should be courteous to voters and their members to receive the necessary support.
As we have said before there is no justification for anybody to support the stripping naked of anybody in public. In this case, Ms Kangwa.
DAILY NATION