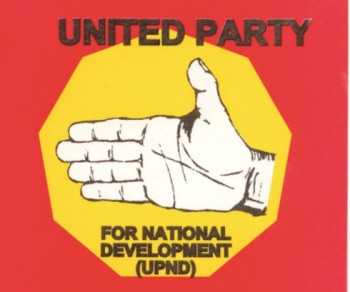 A rift is looming in the opposition United Party for National Development (UPND) following the passing of the running mate clause in the constitution bill by the National Assembly last week. Sources predict the party may be plunged into some chaotic scenes if President Edgar Lungu signs the bill into law.
Sources within the opposition party have disclosed to Zambia Reports that Dr Canicius Banda, the vice president for politics, feels UPND president Hakainde Hichilema will continue sidelining him in preference to Geoffrey Bwalya Mwamba also known as GBM, the vice president administration.
Confiding in a few party officials who include a Chisankama from Lusaka's Lubwa ward, Banda says he knows that if the running mate becomes a reality, Hichilema may most certainly pick on GBM in the 2016 elections, a thought that he says is hard to stomach considering that GBM is a new comer.
According to the sources some UPND cadres led by a Kaenga are very optimistic that GBM will be Hichilema's running mate in next year's polls.
"As we talk to you right now there are three groups that have come up, one is supporting GBM, the other Banda and the third one wants one of the long-time serving members of parliament to be HH's running mate," one source said.
Another source says that it is incumbent upon Hichilema to ensure that his choice of a running mate does not bring division in the UPND. The opposition party is generally perceived to be a party so much inclined to the Southern province, its apparent strong hold.
The fact is that of the three groups said to have come up, one is pursuing Hichilema to nominate a running mate from the UPND old timers. This may be a clear indication that Banda and GBM have not really been welcomed with open arms by the UPND grassroots and even some senior members.
It will be interesting how this running mate issue will play out in the UPND in the months remaining before the 2016 tripartite elections which may also include a referendum on the bill of rights.