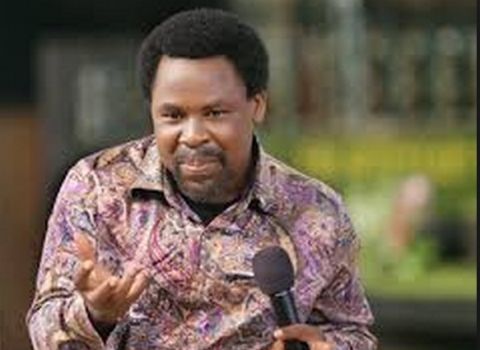 The founder and general overseer of the Synagogue Church Of All Nations (SCOAN), Prophet T. B. Joshua, has been named as the 2015 'Yoruba Man Of The Year'.
PM News reports that the Nigerian prophet was honoured by the 'Egbe Omo Oodua Parapo', a coalition of 35 pan-Yoruba groups drawn from all over the world.
Following the group's annual conference in the United States of America, Akinwale Adewunmi, the chairman of the award committee, said:
"We give this award to Pastor Joshua out of over 500 nominees screened by the Planning Committee of the Association."
In his speech, Adewunmi commended T.B. Joshua for adding "honour and admiration to the Yoruba nation" and described him as "a Yoruba man with a global image in the annals of charity".
He also noted that the prophet's charitable projects span 45 countries and help millions of people irrespective of their religion or ethnicity.
"Pastor Joshua started as a poor boy. He had no access to education neither did he enjoy any outstanding benefit from his society, yet he built himself. He educated himself and today stands out like a Professor in the greater university of life and living," he said.
Praising T.B. Joshua for improving Nigeria's image abroad, the committee chairman said: "Across the world, many ask travellers from Nigeria: 'Oh, you are From Pastor T.B. Joshua's country?' "
He noted that the SCOAN is one of the biggest tourist attractions in the southwest, adding that many foreigners would never have visited Nigeria if not for this church.
Earlier this year, T.B. Joshua was named the 'Yoruba man of the decade'. The prophet, who is also popular from the fame of his Christian television station Emmanuel TV, received the commendation from IrohinOdua, the first pan-Yoruba news outlet.