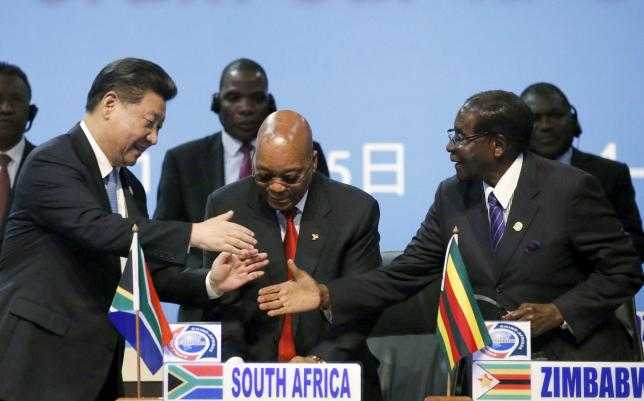 China's president has pledged $60bn to development in Africa, as part of what Chinese and African leaders called "win-win cooperation."
President Xi Jinping made the announcement on Friday to rousing applause from an audience that included South Africa's President Jacob Zuma, Nigerian President Muhammadu Buhari, Kenyan President Uhuru Kenyatta and African Union Commission Chairwoman Nkosazana Dlamini-Zuma.
Here is a man representing a country once called poor, a country which was never our coloniser.
Zimbabwe's President Robert Mugabe
Speaking at the Forum on China Africa Cooperation in South Africa, Xi outlined 10 areas that will receive funding including infrastructure projects, aid for drought-stricken countries and thousands of scholarships for African students. The Chinese government will also cancel outstanding debts for Africa's least developed countries in the form of zero interest loans that mature at the end of 2015, he said.
Xi also promised to provide assistance to help upgrade African health care facilities, train hundreds of journalists and provide satellite reception in 10,000 African villages.
China has the world's largest foreign currency reserves at $3.514tn. State owned banks have often looked to developing countries for investment opportunities.
Xhanti Payi, a Johannesburg-based economist, told Al Jazeera that Africa needed $90bn a year to meet its infrastructure development needs.
China's pledge "is not enough, but it's a good start," he said.
According to economist Aubrey Hruby, the $60bn pledge is three times as much as the package promised at the last China Africa cooperation summit in 2012.
'God-sent'
With China's recent economic woes, the Washington DC-based economist was expecting a more modest fund.
Hruby added the package is likely to be distributed through numerous state-owned agencies and it will be difficult to track the funding's successes or failures.
"There's not a lot of transparency in how it's broken down," she told the AP news agency.
At Friday's summit, Zimbabwean President Robert Mugabe, hailed China's Xi, said: "Here is a man representing a country once called poor, a country which was never our coloniser. He is doing to us what we expected those who colonised us yesterday to do.
"We will say he is a God-sent person," he said.
Source: Al Jazeera And AP