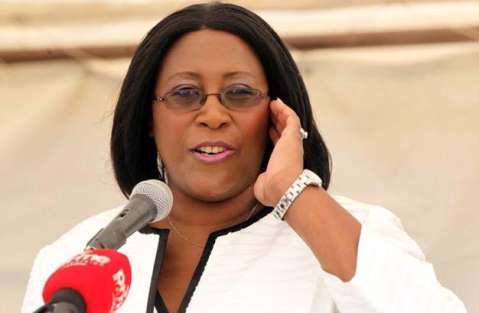 FORMER first lady Christine Kaseba is being ungrateful to many economically disadvantaged Zambians by attempting to decline an expensive house Government has secured for her and her family, the Christian Coalition has charged.
Coalition general secretary John Mwendapole said it was morally incorrect for Dr Kaseba to ''continue playing victim'' in circumstances where she should have been thankful to Zambians for giving her the privilege of acquiring the status of the first lady.
Rev Mwendapole said Zambia's biggest challenge has been lacunas in the law and that until the law on the benefits of former presidents and their spouses was reviewed, those in privileged positions such as former first ladies would continue to abuse their privileges.
He said it was disheartening that Government had continued paying for a vacant house secured for Dr Kaseba when the money could have been utilized in other areas of urgent need.
Rev Mwendapole however said he was consoled by President Edgar Lungu's desire to consider abandoning the law on former presidents' retirement benefits which include the construction of a house because former presidents often left office with some wealth.
He advised that Dr Kaseba should not attempt to create a picture that President Lungu's Government did not care about her in a scheme to have the Head of State demonized.
Rev Mwendapole said it was the expectations of Zambians that Dr Kaseba as a woman and leader would volunteer the money being spent on her and donate it to some women groups involved in economic activities for survival.
He wondered why the housing of Dr Kaseba had continued to draw controversy when over the years other former first ladies were accommodated without any ''political noise''.
"Zambians expect Dr Kaseba to be more sensitive and we know for a fact that women are less greedy than men. With the controversy that has continued to surround the accommodation of Dr Kaseba, it would be appreciated if she told Zambians that she did not need the support of Government.
''Let her say 'thank you' for the offer but that she will not need it 'because you as Zambians gave me a privilege of having attained the status of the first lady'.
''We do not want to see Dr Kaseba and her family suffering but her status in Zambia is much better than most of our women in rural areas and those are the people she must dedicate her heart to," Rev Mwendapole said.
He advised that Government should immediately stop paying for the house until after Dr Kaseba and her family had moved in to avoid wasting money.
Government has secured a house for Dr Kaseba in Woodlands along Mutende Road but the house has remained unoccupied despite rentals being paid.
Dr Kaseba has been informed about the house but had not advanced reasons for not having moved into the house.
ZAMBIADAILYNATION