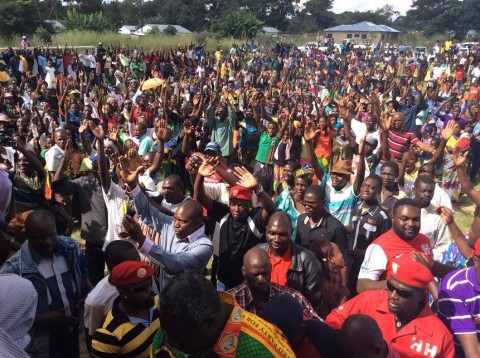 Over 400 MMD and PF leaders from Kanyama, Mandevu, and Munali constituencies defected to the UPND this morning at a colourful ceremony at the UPND party secretariat that was officiated by UPND President Hakainde Hichilema and Vice-President Geoffrey Bwalya Mwamba (GBM).
Among the prominent personalities who joined alongside their members is the former Zambia Railways Chief Executive Officer Professor Muyenga Attanga who was accompanied by his wife and former PF Deputy Secretary General Bridget Attanga.
In joining Prof. Attanga says the ruling PF has totally submerged and cannot support and improve the lives of many Zambians adding that he worked with late Michael Sata who had a vision for Zambia and not Edgar Lungu who is completely lost.
And UPND President Mr. Hichilema says he is everyday getting worried with the way PF President Lungu was managing the affairs of the country.
Speaking when he received the over 400 people, who he referred to as UPND goodwill ambassadors, Mr. Hichilema said that the current economic turmoil caused by lack of foresight by the PF may plunge the country into more social and economic challenges.
The UPND leader said PF and President Lungu must realise that he has failed to govern the country and publicly give up.
Mr. Hichilema called on UPND members across the country to embrace new members and never feel threatened with their positions.
He called for mass mobilisation and recruitment of members and also form solid structures at all levels across the country.
And speaking at the same event UPND Vice-President for Administration GBM said that Zambians have resolved to voting for UPND because of the way PF has mismanaged the economy.
GBM, who is also Kasama Central MP, says there is no need for one to be a magician or fortuneteller to see that the country is in an economic mess and needs resuscitation.
On Friday, the UPND leadership received more than 300 PF members in Lusaka.
Issued by: UPND National Campaign Centre, Lusaka