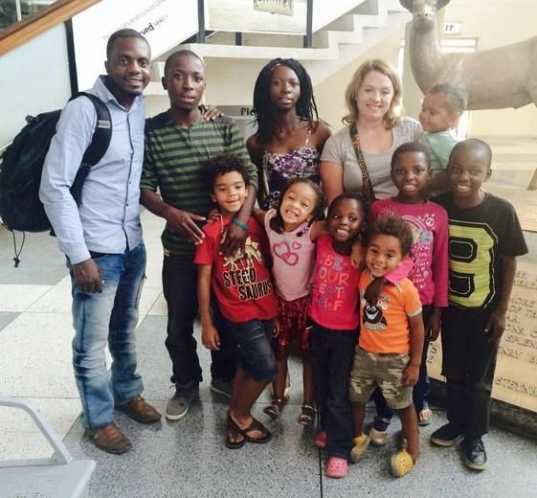 A Wetaskiwin family is facing bureaucratic stumbling blocks in trying to keep a group of Zambian siblings together and bring them to Canada.
Vinjelu Muyaba, pastor at Lighthouse Church in Wetaskiwin and owner of the Justice Café, said he and his wife Kathryn are in the process of trying to adopt a group of five siblings in Zambia but were hit with their first roadblock because the eldest son is 16-years-old, 19 years younger than Muyaba. Under Zambian adoption laws, the adoptive parent must be 21 years older than the child.
They have approved the Muyaba's application to adopt the other four children and are willing to let the Muyaba's foster the 16-year-old. Which is where the family hit its second stumbling block: Canada does not recognize international fostering and would not recognize the teen as a dependent.
"We are trying to keep the sibling group together," said Muyaba, "but the Zambian government doesn't care and neither does the Canadian government."
The Muyabas first learned of the children when they were contacted by a friend in Zambia looking for money for food and blankets for the kids. The family was living in poverty when their alcoholic father abandoned them with their mother. In April, she passed away and the 16-year-old boy was forced to work where he could while making sure he and the rest of the kids got to school.
"They didn't have enough to eat," said Muyaba.
Although he was caring for his siblings, the teen was not legally eligible to take over their day-to-day care and the family faced being split up and sent to separate orphanages.
At the time, the Muyabas were in the process of trying to adopt a Canadian child. The couple has four children of their own but wanted to share their love and home with children in need.
"I'm a pastor and we're Christians. We are adopted into God's family. It's the foundation of our faith…this is opening our home to kids who don't have a mom and dad to have a mom and dad."
They have taken in people who needed help and at-risk kids. As well, Muyaba has worked in a group home.
"I've always been in contact with people who are needy. If you have an opportunity, the space and the chance, it's just a natural flow. For us, it's more of a privilege because of how precious children are."
Originally from Zambia himself, Muyaba knows the conditions and challenges facing many adoptive children and believes they can have a better life.
Married for 10 years, the Muyabas have repeatedly applied to adopt a child but each time they came close, Kathryn became pregnant and the process would be put on hold because any major change in a family's home or circumstances halts the process.
In April, they were in the final stages of their most recent application when the social worker they met with told them it would be at least a year until a child could be found that would "match" with them, so when the Muyabas heard about the kids in Zambia, they decided to do more than send money.
Muyaba travelled to Zambia and applied to adopt the children in person rather than use an international adoption agency which would run the couple thousands of dollars as each adoption would be in the neighbourhood of $40,000. By applying in person the adoptions will cost around $25,000.
"It basically cost me my plane ticket," he said.
He spent three weeks with the children fostering them in country before flying home and changing places with Kathryn, who is currently in Zambia fostering the kids, which is required under Zambian law before the adoption can be finalized.
"When I met him, I could totally see myself being his dad," said Muyaba. "I come from a place where you see the poverty and cruelty. Adoption is sort of our living out justice."
While the fostering is taking place, the Muyabas found they could bring the oldest boy, Million, to Canada as an international student. Once he is here, they will apply to Canadian Immigration for permanent residency under a compassionate application as the rest of his siblings will be living here.
"We're not giving up but we're not getting any help (from the governments)"
Until then, the teen would have to pay for his education like every other international student, which amounts to $8,000 a year to attend school in Wetaskiwin.
"Because we are doing everything else with the other kids, we just don't have the $8,000," said Muyaba. "It's all about bank accounts. We're extended and even then it's not guaranteed."
To help the family out, friend Jessica Johnson-Behiels has set up a YouCaring crowdfunding fundraiser to raise the money needed to pay for the teen's education. To date, they have raised $4,055 of their $8,000 goal. To contribute, go to www.youcaring.com/kathryn-and-vinjelu-muyaba-443250.