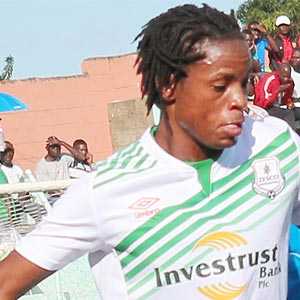 Zambia under-23 midfielder Benson Sakala has hit the headlines over the last two months since arriving at Power Dynamos following stints in America.
Sakala has two senior caps and comparisons have been made to Nathan Sinkala. He will be one of the prospects to look out for at the 2015 Caf Under-23 Cup in Senegal next month.
We caught up with the defensive midfielder for a brief chat.
Q: Who is Benson Sakala?
BS: I came from Breakthrough-Chiparamba Academy and played at a couple of local clubs like Young Zanaco in Zambia, then traveled to the USA to play in the division one league and then went to Brazil, then came back played for Red Arrows on loan and now I am at Power Dynamos.
Q: There is a story you played in the MLS?
BS: No, I played for Chicago Magic in the second tier. I was there for one year, six months starting from 2012.
Q: And the Brazil stint, what is the story there?
BS: When I left the US in mid-2013, I went to Brazil for six months and played for a second division team, Luisao.
Q: How was the Brazil experience and playing in football's Mecca?
BS: It wasn't easy because of the language barrier but I had people whom I was surrounded with especially my agents and also my teammates who helped me a lot.
I learnt some good football and I think that was my best learning experience in football.
I left Brazil in 2014 when my mum was ill. Unfortunately she passed away so I decided to stay home for a little while.
I then played for Red Arrows where I spent four months and by the end of the year I went back to Chicago and later returned to Zambia and now I am at Power.
Q: Why Power Dynamos?
BS: Because I love their style of play and there is good football. It is a great place for me as a young player to learn and to be who I want to be in the soccer industry.
Q: You impressed a lot of people on your Power Dynamos debut in the 2-0 win over Nakambala on August 16 and like a duck to water in your first big Kitwe derby two weeks later when Power beat Nkana.
Not many players manage to handle the pressure on their debuts of playing in a soccer mad-place Kitwe and in front of crowds you rarely get in Lusaka.
BS: The confidence grew when I was in Brazil from the support I got there, where I got support from people who did not know me.
I also got a good welcome from the players, coaches and management at Power.
Q: You scored a great debut goal last Saturday for Power in the 2-0 win over National Assembly. Tell us about it.
BS: I dedicate it to my late mother who died last year.
Q: What is your future at Power?
BS: I am here on a one-year contract. It is a contract that I might renew. My agents are also looking for other opportunities out there. But I will do my best here and destiny will decide.
Q: How are you settling in at the Zambia national team?
BS: It is pretty good. Everyone, including the coach, has given us, the new young players a lot of support. I am settling down well. I believe in God's time and I believe my time is coming.
Q:
Where will Power finish this season?BS: The league is not yet decided. Our aim is to finish first or second but, the league is still on. Anything can happen in the next four games.
© Supersport.com