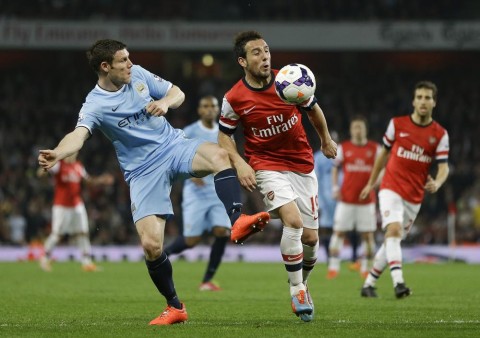 Arsenal have a chance of lifting the Premier League trophy this season if they can keep key players fit, midfielder Mesut Ozil has said.
The German international spoke to Bild before his country's European Championship qualifier against Ireland, saying the Gunners had proved they have what it takes to win the league by beating Manchester United on Sunday.
The result left Arsenal second in the table ahead of United on goal difference and two points behind leaders Manchester City.
"We have a great team with many world-class players," Ozil said. "Our goal is to win the Premier League and I think that this season it's possible to do it, if we all stay healthy.
"But the season is long."
Arsenal can beat Bundesliga champions Bayern Munich in the Champions League on October 20, the 26-year-old said, despite the Bavarian side's intimidating form that has seen them score three or more goals in their last six games in all competitions.
"I didn't expect them (Bayern) to beat (Borussia) Dortmund 5-1 (in the Bundesliga on Sunday).
"Their recent results show they are simply in great shape … But our victory against Manchester United was a sign: when we play and want it 100 percent, then we can beat Bayern," Ozil said.
"We are playing at home. Although we have respect for them, we don't have any fear. We know how to score goals against Bayern and we can be successful. It will be difficult – but we have the potential to beat any team," he added.
© Reuters