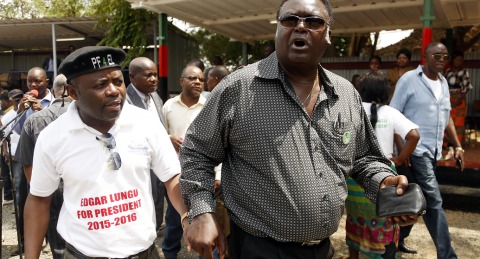 LATE Willie Nsanda's daughter has sued the administrators of her father's estate for refusing to pay her school fees and general upkeep.
This is on account that she is not his biological daughter.
The minor a grade eight pupil at Namununga School has since dropped out of school for failing to pay school fees amounting to K5,700.
She said all efforts to have the administrators come on board to support her and general maintenance of K6,000 per month have proved futile.
The plaintiff sued Eustace Kankomba and Andrew Kachibe, through her mother, contending that her parents got married on April 1993 and that she was the second born in the subsistence marriage.
She is now asking the Court to declare that she is Mr Nsanda's biological daughter and that she should be allocated or given her share of the estate in line with the Intestate Succession Act Cap 59, including tertiary, medicals and upkeep from the demise of her father.
The plaintiff also seeks another Order that the defendants should prepare a full account and inventory of the estate, preservation of the chattels and landed properties until the matter is fully determined by the court.
In a Statement of Claim filed in the Lusaka High Court , the plaintiff contended that after the demise of her father, the administrators continued to support and maintain her though intermittently until in July 2015 when the grandfather ordered that maintenance should stop on accusations of her not being the biological daughter of Mr Nsanda.
In her affidavit sworn by her mother, the plaintiff stated that her parents were later granted divorce by the Mufulira local court on July 29, 2002 and that her father continued to maintain her and her older sister.
That some months before his demise, the late Mr Nsanda started doubting fathering the plaintiff leading to both parents to undergo Deoxyribonucleic Acid (DNA) tests at Nkanza laboratories and returned a 99.999 per cent probability of paternity.
Her mother said while Mr Nsanda questioned the DNA profiling results, he still continued supporting her child and paying school fees until he died on March 24 this year.
timesofzambia