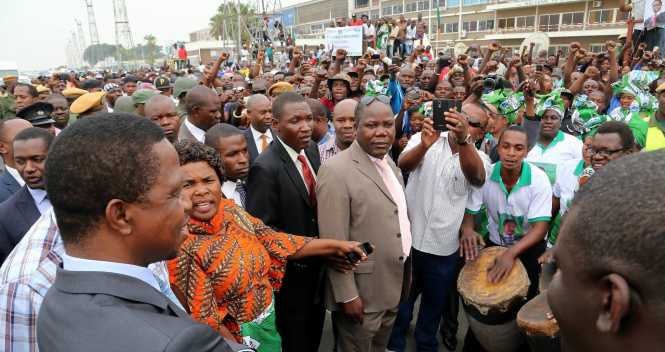 PRESIDENT Edgar Lungu has reiterated that he will continue to provide the necessary leadership to guide the country out of economic quagmire and that politicians should seriously heed his message for prayer and fasting.
The President said this on arrival from New York, USA, where he attended the 70th United Nations General Assembly. He was welcomed by Vice-President Inonge Wina, Cabinet ministers and defence chiefs.
Hundreds of Patriotic Front supporters were also present at Kenneth Kaunda International Airport (KKIA) in Lusaka. Mr Lungu's private jet arrived at 09:40 hours.
President Lungu, who was accompanied by First Lady Esther, assured the nation that he was firmly in control of the economic and political situation and would provide the necessary leadership during the period.
He, however, said he was ready to listen to people with solutions to the current depreciation of the Kwacha without necessarily calling for an indaba to discuss the weakness of the local currency.
"I think my message is just to call upon my colleagues in the political arena to take my calls for prayer very seriously. I am firmly in control and I know that I have the responsibility to do certain things, (to) provide leadership both in the economy and political arena and elsewhere," he said.
Mr Lungu, who re-affirmed his dedication to God, said that some politicians were accusing him of abdicating his responsibility and hiding behind prayer and fasting, but advised such people to stay away from the prayers, if they did not believe in God.
"I think I believe in God in time of joy and difficulties, so when I say let's go and seek the face of the Lord on the 18th (of October), do not say I have failed. So those who don't believe in God please keep away from this matter. Those who believe in God, let's work together because we are 'One Zambia and One Nation'. There is nothing I have failed; the Kwacha is gaining strength against the dollar and measures are being put in place," he said.
Mr Lungu said that Zambia had adequate economists, including those belonging to the Economic Association of Zambia (EAZ) as well as those from the private sector who would work together with the Government to address the current crisis.
"There is talk of an indaba. Late President Levy Mwanawasa had four, five indaba. Where did they go? We have the Economic Association of Zambia, we have got the lawyers and we have got all those who have knowledge, let them bring them and we will hear them.
"But if you imagine that I can convene another indaba just because the Kwacha is falling against the dollar, we have economists in Government, we have economists in the private sector, all of us are working as one," he said.
Times
Picture by Eddie Mwanaleza/State House