President Edgar Lungu says Zambia is ready for the introduction of Dual Citizenship.
Kennedy Bwalya reports that the President says he is pushing for dual citizenship to enable Zambians in the Diaspora to take part in the governance and affairs of the nation.
President Lungu says dual citizenship will also help repatriate home skills and capital held by many Zambians living abroad.
The Head of State was speaking at a PF 'Meet the President' Fundraising Dinner organized by the Party organs in New York.
SEE MORE PICTURES BELOW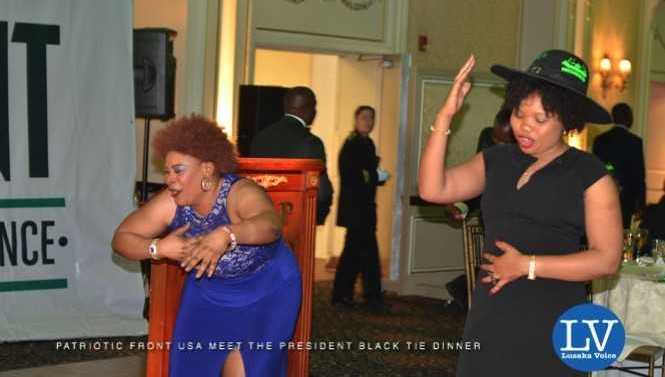 Mr Lungu says there is need for the local private sector to forge links with foreign private sector in a bid to spur economic development.
The presidential pronouncement on dual citizenship attracted the jubilation of Zambians living in the U.S who turned up for the dinner.
And President Lungu says there is need to scale up efforts towards the promotion of the welfare of vulnerable women and children in society.
He said this is in line with the ideals of late President Michael Sata.
And PF Deputy Secretary General Mumbi Phiri says the financial mobilization venture is aimed at making the party self sustaining as opposed to old regimes that abused of public resources for partisan moves.
Mrs Phiri says the PF is raising its own funds in readiness for next year's general elections.
The President's bow hat was auctioned for Ten thousand U.S dollars.
Renowned musicians, Mampi, JK, Marky 2 and Wile took turns in entertaining the patrons.
Meanwhile, President Lungu says major focus of the United Nations new 2030 Agenda for Sustainable Development should seek to reduce inequalities among nations.
President Lungu says this will help ensure that development impacts positively on everyone in the world.
The President was speaking when he made a presentation during interactive dialogue on ending poverty and hunger, at the UN summit on the Post 2015 summit at the UN in New York.
The President says poverty eradication is an overarching goal that should be pursued with unprecedented effort in the 2030 Agenda for Sustainable development in order to restore human dignity.
He noted that implementation of development goals 1 and 2 requires support of national development plans, especially for least developed countries.
President Lungu says his government is committed to implementing various social protection programs such as the Social Cash Transfer, the Food Security and the Farmer Input Support Program.
He says the programmes are aimed at ensuring the vulnerable are protected from extreme risks, shocks and food insecurity at house hold level.
The President says social protection is a powerful tool that can be used to reduce poverty, hunger and improve food security.
President Lungu has since called for increased investment in social protection with improved accountability and transparency.
The Head of State said his government seeks to develop and implement an integrated management information system and a single registry of beneficiaries for social protection   programmes.
President Lungu says poverty can only be eliminated through broad based pro-poor growth, improved human capital and decent work.
Meanwhile, President Lungu is soon expected to launch the livestock stocking and restocking exercise to farmers across the country.
Ministry of Agriculture and Livestock Permanent Secretary David Shamulenge says this follows cabinet approval of categories that will benefit from the empowerment programme.
Dr. Shamulenege says youths and women are part of the groups that will benefit.
He says the exercise will start with Mbesuma and Kanyama breeding centres.
The Permanent Secretary said this when he toured Chishinga ranch in Kawambwa district.
Meanwhile, Dr. Shamulenge has directed provincial agricultural coordinators to ensure that state ranches are adequately manned and provided with the necessary facilities if the programme of growing livestock breeding centres is to achieve its goals.
ZNBC