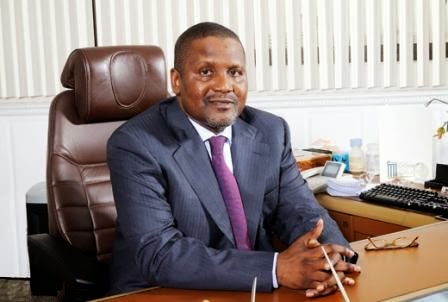 Africa's richest man, Aliko Dangote, plans to launch several new cement and sugar plants as well as mines across the continent, accelerating an expansion outside his Nigerian home market and shrugging off a downturn in Africa.
A slump in commodity prices, lower demand from China and investor flight from risky emerging markets has hit African economies and state budgets hard, raising borrowing costs and the prospect of instability.
But the Nigerian billionaire said his industrial empire would expand its cement production in several African countries, betting on a future construction boom.
"We believe that the future is mostly to do with infrastructure," he told Reuters.
"There is so much of a deficit in infrastructure."
In August, his Dangote Cement said it had signed contracts worth $4,34 billion with China's Sinoma International Engineering to build cement plants and boost production by 25 million tones annually.
But now Nigeria's biggest listed firm will add an extra $400 million as some projects were turning out larger than initially planned.
"It will be close to $4,8 billion," he said.
A cement plant in Ivory Coast, for example, would produce 3 million tonnes annually, double the initial plan, he said.
Plants will be built in Cameroon, Ethiopia, Kenya, Mali, Niger, Nigeria, Senegal, Zambia and Zimbabwe, according to a statement.
Another plant will be launched in the Democratic Republic of Congo (DRC) next year, Dangote said.
Dangote could also acquire existing cement plants outside Nigeria if an opportunity came up, he said.
The Chinese partner will build turnkey cement plants buying machines and other technical equipment from German firms such as Siemens.
"Anything with engines is coming out of Germany," he said, naming apart from Siemens the firms IKN and Loesche.
The financing would be a mix of company cash and debt, he said.
As a second step, Dangote, whose conglomerate also has oil, gas, telecommunications and real estate interests, will expand its sugar business by launching production, in Zambia where he has already a cement plant.
Zambia would be an ideal regional hub as it had borders with eight countries, he added.
Dangote was also planning potash mining sites in the DRC and Ethiopia, he said.
Nigeria's most celebrated business magnate also said restrictions by the central bank on hard currency transactions would encourage more agriculture production in Africa's biggest economy, meaning that less would be imported in the long-term.
In June, the bank, seeking to conserve its dollar reserves, said importers could no longer get hard currency from the interbank market to buy a list of 41 items including rice, rubber, soap and Dangote's core product, cement.
The central bank has imposed these and other restrictions to halt a fall of the naira amid plummeting oil revenues, Nigeria's main source for the budget and hard currency to finance imports.
Critics of President Muhammadu Buhari say his decision not to appoint a cabinet more than three months after coming to power, have increased the impact of the central bank's policies in the absence of a finance minister and economic team.
But Dangote, who was photographed with Buhari as the former general watched his election victory unfold in March, said the central bank's controls made "a lot of sense".
"They have to be careful how people use the foreign exchange because it isn't a tea party any more. You have to restrict people's behaviour," Dangote said, adding that this could encourage Nigeria to grow more rice at home rather than using foreign currency for imports. – Reuters.