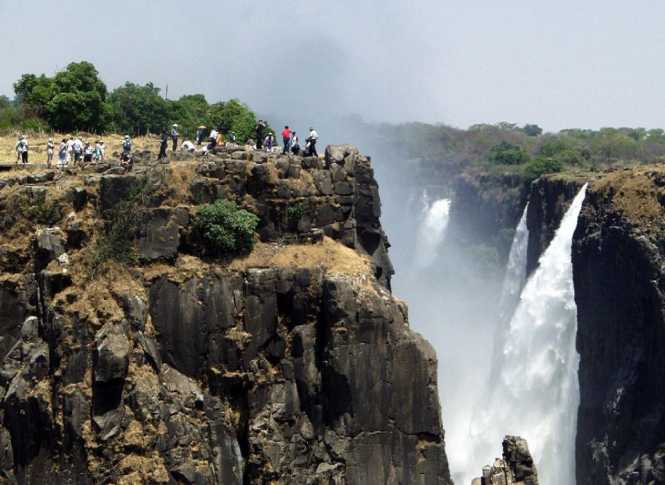 UNDOUBTEDLY, Mauritius is one of the world's prime tourism destinations. But after visiting the seven coloured earth, a relatively small area of sand dunes comprising sand of seven distinct colours, someone remarked that Zambia has the same if not better tourist attractions than this small Indian Ocean island country.
But do not be quick to argue against him; this was only a fortnight ago.
Last month, CNN carried a piece titled 'Five Reasons to Visit Zambia Now'. This was a piece by Christopher Clark, a freelance writer based in Cape Town, South Africa, who has travelled to and written from 13 countries in Africa for more than 20 local and international publications, and has twice been featured as one of South Africa's best writers by The Big Issue magazine.
Clark acknowledged that apart from Victoria Falls — the world's largest waterfall — Zambia remains a mostly unknown entity even to more intrepid travellers.
"On the one hand, this is a terrible injustice to this exciting, enigmatic and unfailingly welcoming country. On the other hand, it's a significant part of the appeal… However, the Zambian Government has recently reiterated its intention to put tourism at the top of its agenda.
"The visa process for international visitors has been simplified in 2015 and the World Health Organisation also came to the party and declared Zambia a yellow-fever-free zone.
"As the often ill-informed furore around Ebola slowly peters out, Zambia is sending an increasingly loud message to the world that it is very much open for business. So the best time to explore Zambia is right now, before everyone else cottons on," he writes.
The first reason he gave was that it was The Valley of the Leopard – Zambia is one of the few African countries that can pretty much guarantee the full pantheon of Africa's wildlife without having to be inside a fenced area.
All of Zambia's national parks and almost all of its accommodations are unfenced, and elephants, hippos, giraffes, buffaloes, hyenas and even lions are regular visitors to many towns, villages, lodges and camps even outside of national parks.
Secondly, he talked about Zambia's French Riviera, with the fashionable Lake Kariba is the largest man-made body of water in Africa, a veritable inland ocean.
He says visitors could be forgiven for thinking they are in Mediterranean Europe at times, yet, when the sun sets, there is no doubt they are in Africa.
Clark then talks about "A walk on the wild side" where he explains that among safari aficionados, Zambia is feted for its guided bush walks and walking safaris.
He says although these activities are not unique to Zambia, the level of knowledge of the guides generally is good.
"With the density of wildlife, dearth of fences and continued prevalence of traditional rural living, one of the arguments is that Zambia's guides grow up in closer proximity to the wonders of the African bush than most," he says.
"Whatever the case, there's probably nothing more exhilarating than tracking lions through the bush on foot, and Lower Zambezi National Park has to be the best place in Zambia to do this.
"Just a few hours' drive from Lusaka or a 30-minute chartered flight, the park is astonishingly remote and the landscapes are striking.
"The green banks and elephant-filled islands of the mighty Zambezi flank the park on one side and a high and densely forested escarpment on the other. A morning bush walk can be coupled with an afternoon or even overnight canoe safari down the Zambezi for a truly special Zambian combination."
He also talks about the country's fascinating colonial heritage, citing among others, the picturesque and spectacularly incongruous Shiwang'andu manor house, home of Sir Stewart Gore-Brown, a former British colonial officer who was to develop a deep affinity with the country.
Clark caps it off with the mighty Victoria Falls in full force.
He writes: "While we've aimed here to shine a spotlight on some of Zambia's lesser-known highlights, it's impossible to leave Victoria Falls off this list altogether.
Over the years, this incredible natural wonder has exhausted all the superlatives in the dictionary in attempts to describe it, but none manage to do it justice.
"Known to locals as 'Mosi-oa-Tunya' (The Smoke that Thunders), spray from the falls can be seen rising high above the deep Batoka Gorge from literally kilometres away.
Once jaws have returned to their usual positions and eyes have stopped popping out of heads, there are unprecedented adrenaline activities on offer in and around the falls."
With that, you get to understand why after visiting the seven coloured earth in Mauritius, the Zambian, who was part of the African media that had descended on Bel Ombre, south of Mauritius for the
MultiChoice Africa content showcase, said what he said about Zambian tourism.
And there was very little disagreement from his colleagues – the consensus was that Zambia needed to do more to promote its tourism.
But what is this seven coloured earth (Coloured Earth of Chamarel that have become one of Mauritius' main tourist attractions since the 1960s) which inspired the remark on Zambian tourism?
Well, take nothing away from it – it is a natural phenomenon and a prominent tourist attraction. Its colours are approximately red, brown, violet, green, blue, purple and yellow.
Due to the tropical weather conditions, all water-soluble elements have been washed out with the remains being the reddish-black iron and aluminium oxides which create shades in blue, cyan and purple.
The various colours are developed due to the different compositions.
But what is more fascinating is that if you mix the coloured earth together, it will eventually settle into separate layers.
Still, Zambia boasts of having one of the Seven Wonders of the World – the Mosi-oa-Tunya.
zambiadailymail