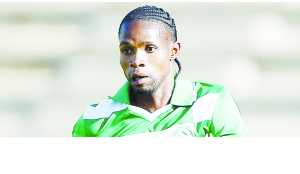 Zambian defender Davies Nkausu has taken legal action against Bloemfontein Celtic after the South African club decided not to pay him for the past three months.
Nkausu told KickOff.com that he did not agree to the terms of termination tabled by Celtic when they proposed to cancel his contract.

"I haven't been paid by Celtic for the past three months and I have now taken legal action. This matter is now being handled by the lawyers," Nkausu reveals.
"They wanted to terminate my contract but I didn't agree to the terms. Their reason for terminating my contract was poor performance yet I spent the past six months away on loan at Tuks and also played at the 2015 AFCON finals against better players.
"At the beginning of last season I was injured and then when I recovered I then played three games and then afterwards went to the AFCON finals, after which when I returned I was told that I have been loaned to Tuks. So this poor performance is just an excuse," says Nkausu.
The 29-year-old is now training with BidVest Wits.
"I am here at Wits just for the purpose of training to keep fit," he adds. -Kickoff