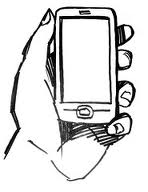 A 36-year-old man of Lusaka has been dragged to court after his cell phone number was found in married woman's phone.
This is in a case in which Sitali Musukwanu, 32, of Lusaka West sued Webby Kainga also of Lusaka West on suspicion that Kainga has been committing adulterry with his wife Mukamba Benzu after he found his number in her phone.
However, Kainga denied committing adultery with Musukwanu's wife.
Musukwanu told Senior Court Magistrate Ackim Phiri sitting with Magistrate Daniel Phiri at Kanyama Local Court that Kainga parks his vehicle at the place where his wife, Benzu does her business.
He explained that in March 2015 he saw Benzu in the vehicle with Kainga but when he confroted, Benzu she expressed ignorance of the incident.
He said on July 13, when there was a funeral of Benzu's aunt he was surprised to find Kainga at the graveyard.
Musukwanu further stated that at the grave yard he tried and failed to get Kainga's phone number by tricking him that he wanted to give him business.
"I however got the number from a place where Kainga gets black soil and when I switched on Benzu's phone I found that it was saved 'mother of Webby'.
"In the evening when I asked Benzu to call Kainga she refused and when we met after calling Kainga, he admitted giving Benzu his phone number," said Musukwanu.
In defence, Kainga said that he gave Benzu his phone number on July 8, because he wanted to buy maize from her aunt whom he found on the road after he offered to carry her maize.
Asked by the court if Musukwanu had inquired from Benzu if she was married when giving her phone number to him, Kainga said that he did not do so because all what he wanted was to buy maize from her aunt.
Musukwanu said he was more than ready to have a print out from his phone to prove he never proposed love to Benzu.
Benzu said that on July 8, she wanted transport to ferry her maize and that when Kainga came and wanted to buy 15 bags of maize she advised him to buy from her aunt and gave him her number.
She explained that she has stayed with Musukwanu in marriage for eleven years and has never had relationship with Kainga or other men.
In submission, Musukwanu said that he wanted compensation but Kainga said that he could not compensate Musukwanu because he never caught him committing adultery with his wife.
Passing judgment, Magistrate Ackim Phiri said that the major problem was the phone number of Kainga found in Benzu's phone.
He said that Musukwanu has no evidence of adultery and dismissed the case.