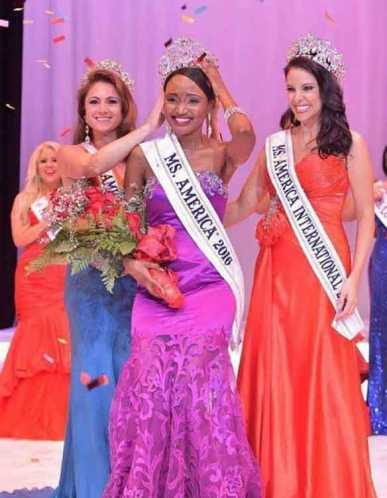 ZAMBIAN model, Amanda Wamunyima, was last weekend crowned Ms. America 2016 after beating 50 other contestants representing different states in the US.
Amanda is a first-generation American immigrant from Zambia and was first crowned Ms Florida in 2013.
The Ms America pageant is for women aged 26 years and up who are single, divorced or married and is separate from the more widely known Miss America pageant.
In a press statement, Zambia's Ambassador to the United States Palan Mulonda congratulated Amanda on winning the prestigious title of Ms America on Sunday, August 29.
Mr Mulonda said Amanda's success was a victory for Zambia as well and commended her for working tirelessly during her reign as Ms Florida 2013-2014 to support people living with disability in Zambia.
"Your continued efforts will certainly go a long way in contributing to Zambia's development," Mr Mulonda said.
Amanda was overwhelmed and grateful for winning the prestigious title and expressed her desire to expand her charitable work done in partnership with the American Red Cross to Zambia.
She currently supports a school in Kabwe where she provides educational supplies, but plans to expand her charitable work by promoting safe drinking water in Zambia.
According to the TalentZambiaUSA website, Amanda has taken part in various prominent fashion shows including the Mercedes Benz Fashion Week, Houston International Fashion Week, Fashion Illusion and Fashionably Alive.
She is also Ms Orlando US 2013 and holds past titles of Miss Katy US 2012, Miss African American 2012, Miss Africa USA People's Choice 2010, and Miss Zambia USA 2010.
Amanda is said to have sparked a trend when she chose an entirely ethnic-inspired wardrobe during the Ms. America 2013 pageant activity week comprising trendy ethnic inspired designs.
During the pageant she shared the desire to show her cultural side through ethnic fashions.
"Because I'm from Zambia, I want to shine a light on African fashions to support the designers. African fashions are more than just clothing, because the garment tells a story in the tribal context," Amanda is reported to have said.
She further highlighted the new generation of Africans inspired by western designs fused with African fabrics, adding that she wore ethnic designs to share more about who she is.
zambiadaily mail