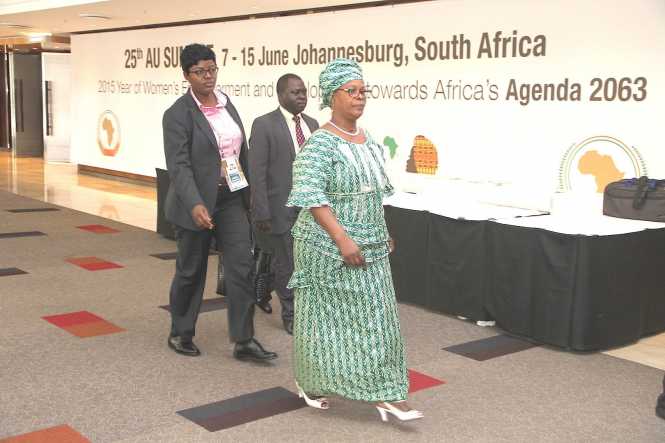 THE Patriotic Front (PF) has advised Forum for Democracy and Development (FDD) president Edith Nawakwi to leave First Lady Esther Lungu out of her political fights.
PF deputy secretary-general Mumbi Phiri said in an interview yesterday that it is unfortunate that Ms Nawakwi is questioning Mrs Lungu's charitable works when it is a tradition for First Ladies to help vulnerable people in communities.
She said it is unfair for Ms Nawakwi to continue attacking the first family.
"It is very clear that her target is to attack the first family, which is very unfortunate and wrong," Ms Phiri said.
She was reacting to a story published in yesterday's edition of the The Post newspaper in which Ms Nawakwi is quoted as having said that Mrs Lungu should stay away from the political arena because she would not enjoy it.
Ms Phiri said Ms Nawakwi should have instead supported the work of her fellow woman instead of engaging in petty politics.
"The First Lady has every right to interact with citizens in any part of the country, contrary to Ms Nawakwi's insinuations that she should not be doing so," Mrs Phiri said.
She said the fact that Mrs Lungu is First Lady does not mean that she must be confined to State House when there is work to do.
"Ms Nawakwi must focus on building her party and offering proper checks and balances and not being petty," Mrs Phiri said.
And PF media and publicity committee vice chairperson Sunday Chanda said the ruling party is shocked by Ms Nawakwi's diatribe.
He said Ms Nawakwi's "hypocritical behaviour" is plain for all to see because she is fully aware that Mrs Lungu is not the first and will not be the last one to play the role she is playing among Zambia's vulnerable.
"She never condemned other former first ladies because there is nothing strange and wrong about the works these mothers did while their respective husbands served as heads of State," Mr Chanda said.
He said Ms Nawakwi's behaviour is a clear case of a woman being another woman's worst enemy.
"We are calling on the women movement in the country to reinforce what Mrs Lungu is doing for the poor communities in our country," Mr Chanda said.
Zambia Daily Mail