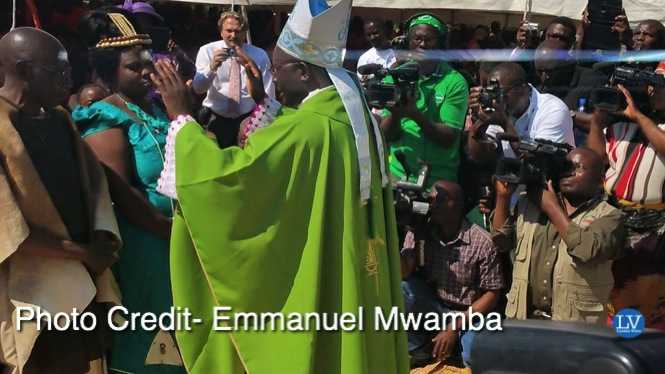 APOSTOLIC administrator of Mpika Diocese His Grace Archbishop Ignatius Chama says the church's stand on gay marriages  remains unchanged.
Speaking at Katibunga Parish August 20th, 2015 during the ordination of brother Deogratius Mbita Sikwazwe into the priesthood, Archbishop Chama reminded the congregation that the church position on gay marriages remains unchanged.
He said that the church will never support the marriage of people of the same the same sex because doing so going against the teachings of the bible.
Archbishop Chama who is also Archbishop of Kasama Diocese also called on the Christian community in the area to support the newly ordained priest and help him to grow in his faith.
And speaking during a luncheon hosted in honour of the newly ordained priest, Father Deogratius Sikazwe, Muchinga Minister Mwimba Malama said Government will continue working with the church as partners in development.
Mr. Malama said that the Catholic Church is running institutions such as hospitals, orphanages, colleges and universities and appealed to other churches to emulate the Catholic Church by partnering with the Government in offering services to the public.
The law maker  further disclosed that construction of Katibunga –Mukungule Road under Lot 2 , covering a distance of about 81 to be undertaken by Ahui Constructors and Chisala – Lufila Philip under Lot 2 covering about 79 km and to be undertaken by China State Constructors, will commence soon.
Mr. Malama said both contractors have started mobilising adding that once these roads have been completed will result into tourist arrivals in North Luangwa National Park, the only park in Zambia with Rhinos.
Mr. Malama also disclosed that connection of Katibunga to the electricity national grid has been completed successfully saying the mission is now fully powered.
On the newly ordained priest, Mr. Malama said he should pray hard, and do a lot of missionary work so that even the young ones can be inspired to work for Christ.