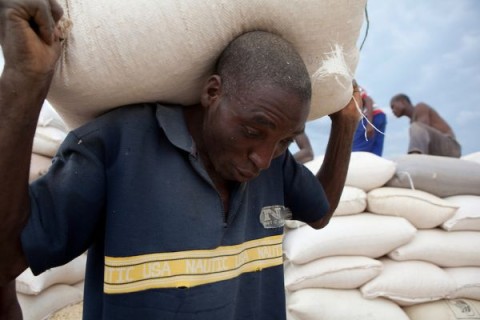 President Edgar Lungu said Government through the Food Reserve Agency (FRA) will increase the maize purchase from farmers from the current K70 per 50 kilograms bag of maize to K75.
Mr. Lungu said government is committed to encourage and motivate farmers in the country especially those in rural areas so that they can continue to grow more food.
President Lungu said he will ask the treasury to find more money so that farmers in the country can be paid rewarding amounts.
Mr Lungu maintained that government will buy the secure and strategic reserve of 500,000 metric tonnes of maize from farmers across the country.
The Head of State said this upon arrival at the Kenneth Kaunda International Airport from Botswana where he was attending a two days summit of the 35thSADC Heads of State and Government Conference.
The Presidential Challenger Jet carrying Mr. Lungu arrived at 14:00 hours and was welcomed by Vice President Inonge Wina, Minister of Home Affairs Davies Mwila, Minister of Lands Christabel Ngimbu and other senior government officials.
Defence and Service Chiefs were also present to welcome the Head of State.
And Mr. Lungu has since tasked the FRA to advance their market search of grain sell to other countries in the region that have a grain deficit.
He disclosed that apparently only Zambia and Tanzania are the only two countries in the region with excess grain.
Meanwhile, President Lungu said the issue of power deficit is a regional matter.
Mr Lungu said it is in this vein that SADC Heads of State have resolved to accelerate the implementation of power generation and transmission so that the integration progamme in the region can be accelerated.