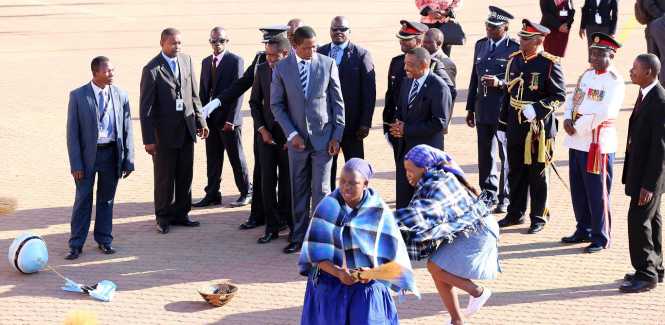 Zambia's Acting High Commissioner to Botswana Wesley Chikwamu has assured President Edgar Lungu that Zambians living in that country are in support of the government's developmental agenda.
 
Mr. Chikwamu cited the road construction projects as economic gain for the country's development.
 
The Acting High Commissioner who thanked President Lungu for his commitment in bettering the well-being of the people of Zambia was speaking during a dinner hosted for President Lungu at the Zambian High Commissioner's residence in Gaborone last night.
 
 And Foreign Affairs Minister Harry Kalaba said the Ministry of Foreign Affairs will soon hold a national indaba to discuss issues affecting Zambians living in the diaspora.
 
Mr. Kalaba observed that with the 3, 000 Zambians living in Botswana, it is important that his ministry creates a platform for the citizens living in the diaspora to allow them participate effectively in enhancing the economic growth of Zambia.
 
Meanwhile, a representative of the Zambian community living in Botswana Rosemary Musonda has congratulated President Edgar Lungu for assuming office as the country's sixth leader.
Mr. Lungu is visiting Botswana for the first time in his capacity as the sixth President of Zambia.
 
Dr. Musonda narrated that the community in Botswana supports President Lungu and his administration for the economic strides made so far in taking Zambia forward.
 
"We are the face of the people of Zambia," explained Dr. Musonda.
 
She has however appealed to the President to consider investing in the energy sector saying energy insecurity can override the economic gains of any country.
 
The Zambian representative also requested that a desk to address the issue of land acquisition concerning Zambians living in the diaspora be put in place to find a lasting solution to the problem.