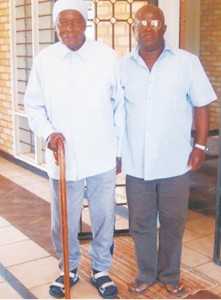 CHIEF APOSTLE OF THE 'MUTIMA WALOWA UWAMAKUMBI' SWEETHEART OF NIMBI CHURCH EMILIANO CHISHIMBA WHO DIED IN FEBRUARY THIS YEAR HAS FINALLY BEEN PUT TO REST.
Chief apostle Emilio Makumbi Chibwe Mushipikisha was put to rest at Chitabuluka village in Chief Shimumbi's area in Luwingu yesterday.
Emilio's burial was attended by over 5,000 people who include church members, politicians and others.
Mines, Energy and Water development Minister Christopher Yaluma led the mourners in paying their last respects to the church leader.
Speaking during the burial, Mr. Yaluma said government has taken keen interest in strengthening its partnership with churches in the country.
He urged members of the sweetheart of Nimbi church to remain united despite the demise of their leader.
Emilio died on 8th February, 2015 at the age of 93.
RADIO MANO
Photo Credit – Tarcisius Mukuka,