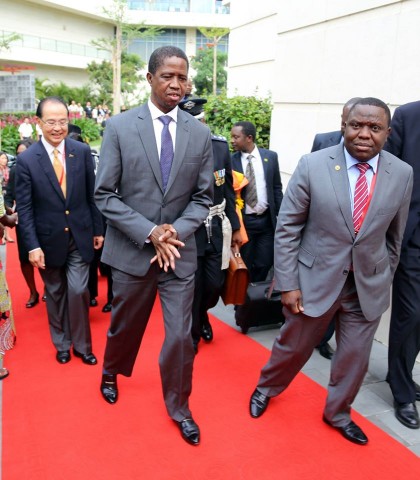 MINISTER of Foreign Affairs Harry Kalaba has warned Zambian diplomats against engaging in activities that can tarnish the country's image abroad.
Speaking when he addressed Zambian diplomats at the Zambian Mission in Lubumbashi yesterday, Mr Kalaba said diplomats must lead exemplary lives and should promote Zambia's interests abroad.
The minister said Lubumbashi is a strategic mission as it provides a link between Zambia and the Democratic Republic of Congo (DRC).
He said it is important for Zambian diplomats to work hard and to exhibit good conduct, which will help to strengthen bilateral ties between the two countries.
Mr Kalaba was in Lubumbashi to hand over five government houses for diplomats, which were recently rehabilitated under a programme meant to reduce government expenditure on rentals in missions abroad.
During his visit, Mr Kalaba met Zambians living in Lubumbashi to get views on the diaspora policy, which Government is formulating.
He appealed to Zambians resident in Lubumbashi to visit Zambia regularly and contribute to national development through various investment opportunities that are available.
"You should be finding time to go back to Zambia and invest some of your resources by putting up businesses and infrastructure.
"In the event that you want to go back, you and your children will have somewhere to start from," Mr Kalaba said.
He also encouraged Zambians resident in Lubumbashi to allow their children to visit Zambia and to connect with family members back home.
Lubumbashi is situated in Katanga Province, which has over 50,000 Zambians resident there.
Daily Mail