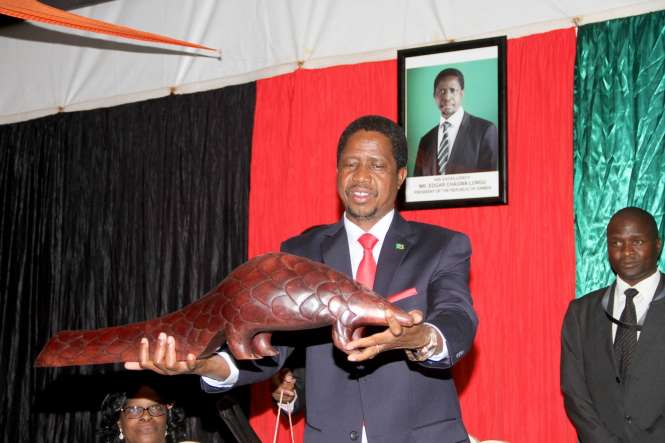 Republican President Edgar Lungu has described as a scandal the revelation that Zambia imports up to 45,000 tons of fish every year despite the numerous fresh water bodies the country is endowed with.
President Lungu says his heart bled when it came to his attention that a country that has 20 million hectors of land covered with water can be importing such a huge volume of fish.
He says he actually finds it to be criminal to imagine that Zambia has been importing Tilapia fish from China when in fact this kind of fish is indigenous to Zambia.
President Lungu has wondered where the people of Zambia have been all along to allow such a shameful situation to continue for such a long time.
He says his government however, intends in the next 3 years to ensure that Zambia takes its rightful place as an exporter of fish even to Asian countries like China.
The Head of State says to this effect, his government has already acquired a US$50 million loan from the African Development Bank (AfDB) for purposes of revamping Aquaculture in the country to the extent of it becoming an exporter.
President Lungu said this today when he toured one of the upcoming small scale fish farming projects in the country, Palabana Fisheries in Chongwe District.
And Agriculture and Livestock Minister Given Lubinda who accompanied President Lungu on his tour of Palabana fisheries has expressed optimism that Zambia's Aquaculture can be revamped in less than 1 or 2 years.
Mr. Lubinda says his Ministry has already identified areas where aqua parks will be established using the AfDB US$50 million loan.
He says areas like where Palabana Fisheries is situated should be considered seriously.
Meanwhile Palabana fisheries Director Sammy Willey who led the President's entourage on the tour of his farm is confident that the Head of State's visit will spur the growth of fish farming in Zambia.
And speaking to Journalists shortly after his tour of Palabana fisheries President Lungu held back from discussing the current standoff between ZNBC staff and management.
President Lungu says he does not want to disturb the ongoing negotiations at the institution.
He states that his is prayer is however that there is no political inference in the matter.
qfm