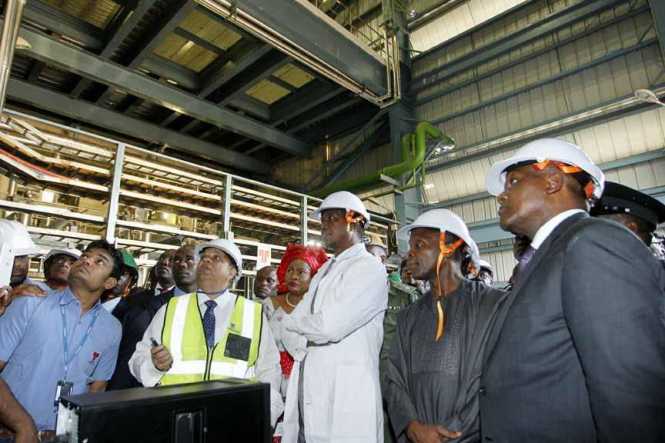 ATLEAST 7,000 jobs, of which 1,000 will be direct, will be created w h e n t h e Dangote Industries cement plant commissioned by President Lungu yesterday becomes fully operational.
And President Lungu has directed Masaiti District Council to reserve more land to create an industrial cluster with the opening of the cement-manufacturing plant.
Speaking at the commissioning of the US$420 million cement-manufacturing plant and a 30 megawatts coal-fired plant, President Lungu said the Dangote Group is the largest ever investment into Zambia by a Nigerian company with an investment outline which translates to over K2 billion.
"This investment is expected to create at least 1,000 direct and 6,000 indirect jobs for Zambians when fully operational. Besides employment creation, the project is already greatly benefiting the local people of Masaiti and the surrounding districts through the transfer of skills, technology and business linkages," he said.
"In this regard, I hereby direct the Masaiti District Council to reserve land around Dangote cement plant for us to create related industrial clusters whose purpose will be to solely depend on this timely project."
President Lungu is confident that management at the cement plant will flow with the Government's intention to ensure Zambians feel part and parcel of the investment.
He noted that for years, Zambians have been subjected to high monopolistic pricing structure for cement but was glad that since Dangote came on the market, the prices of the product had been dropping.
"This implies that the cost of construction is now becoming more reasonable and affordable by the majority of our people. This is what it should be," the President said.
He said the principles of the Patriotic Front (PF) Government are to achieve pro-poor inclusive growth aimed at creating real wealth and jobs for the people.
Government, he said, also wants to rehabilitate and upgrade the country's infrastructure and ultimately restore the pride and dignity of Zambians.
Mr Lungu said he considers the private sector as an engine for economic growth and development.
The President further said Government is exploring other avenues for road construction materials because the use of bitumen has proved to be expensive and yet roads deteriorate at a faster rate.
He directed the Road Development Agency (RDA) to conduct a study on the use of cement in road construction and to submit a report to his office in three months.
And Nigerian Vice-President Yemi Osinbajo, who was the international invited guest, commended President Lungu and the Government for being receptive to the Dangote investment.
"Mr President, your foresight in approving this project and facilitating its establishment is commendable indeed and it exemplifies the kind of African leaders that our continent needs today. Leadership that fully understands that a private sector-led economy collaborates with a knowledgeable Government bureaucratic infrastructure is the way of the future," Prof Osinbajo said.
He said the spotlight falls deservedly on the exceptional African entrepreneur, Aliko Dangote.
"It is to his phenomenal vision, entrepreneurship and commitment to the emergence of Africa and African forces in world commerce that we owe this remarkable accomplishment: the Dangote cement plant in Ndola," Prof Osinbajo said.
Meanwhile, President Lungu says it is good for Africans to invest in their own continent because investment from outside is "scary", STEVEN MVULA reports.
Speaking at State House yesterday when Prof Onsibajo paid a courtesy call on him, President Lungu said he is comfortable with investment from within Africa as it is dependable.
"We need more of African investment because investment from outside Africa is scary. And it is good that our African brother, [Aliko] Dangote, is investing in our country," President Lungu said.
He said investment into the continent by Africans signifies solidarity and brotherliness.
"Assure other African countries that we need more of African investment because investors from outside Africa easily threaten to pull out their investment on trivial issues," President Lungu said.
And Professor Osinbajo said Nigeria is excited with Mr Dangote's investment in Zambia.
Prof Osinbajo said Nigerian businessmen are able to invest in Zambia because the country has good laws.
"I bring greetings from President [Muhammadu] Buhari. We are extremely happy and proud with this investment. Dangote investment is a great investment," Prof Osinbajo said.
Earlier, Prof Osinbajo conferred with his Zambian counterpart, Inonge Wina, for over 30 minutes.
The Nigerian Vice-President arrived in Zambia on Monday to attend the commissioning of the Dangote cement plant in Masaiti.