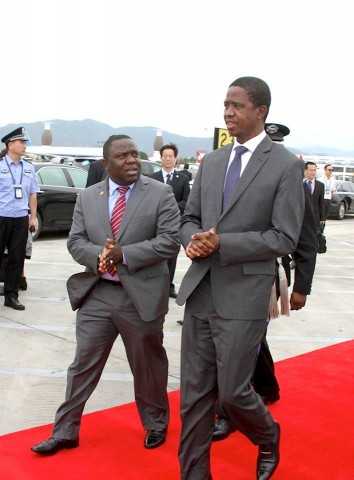 Foreign Affairs Minister Harry Kalaba says Zambia will next year open a diplomatic mission in Uganda.
 
And Mr Kalaba has also disclosed that the Joint Permanent Commission between Zambia and Uganda will be revived next year after modalities for the two activities are concluded.
Speaking in an interview with journalists in Kampala today, the Foreign Affairs Minister who has accompanied President Edgar Lungu for a two-day state visit to Uganda said the diplomatic mission in Kampala will benefit the two countries.
 
He said Uganda which will also open a mission in Zambia was one of the countries whose economy is developing at a fast rate adding that Zambia has a lot to learn from the East African country.
 
The Minister said Zambia does not only have a lot to learn from Uganda but that there is potential for mutual benefits of cooperation between the two countries.
 
And Mr Kalaba said the international trips being undertaken by president Lungu have been more economically beneficial to the country compared to the expenses incurred to facilitate his movements.
 
He said the president was undertaking international trips in an effort to forge alliances that will strengthen Zambia's international standing on continental and regional bodies.
 
Mr Kalaba said Zambia needs alliances which can only be forged by the president interacting with other heads of states.
 
He said the president's efforts will translate into Zambia's voice becoming stronger on the international scene.
 
Mr Kalaba said soon Zambians will begin to seat on international bodies through the support of Zambia's cooperating partners.