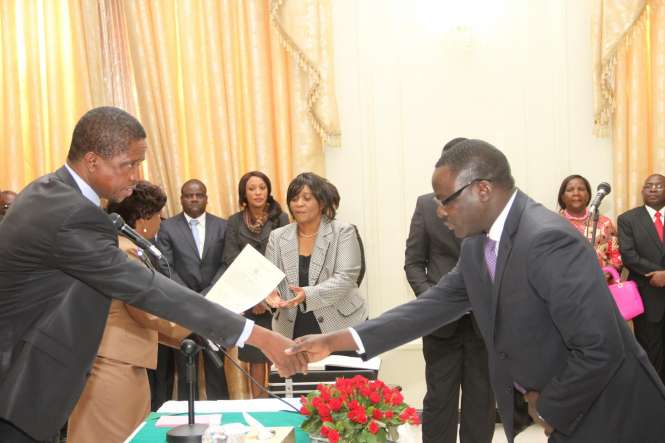 Monday, July 6, 2015
Zambia's Ambassador to France Presents Credentials
His Excellency Ambassador Humphrey Chilu Chibanda of the Republic of Zambia to France has presented his LETTERS OF CREDENCE to the French President Mr. Francois Hollande. Ambassador Chibanda who arrived at Elysee Palace around 16:40 on Monday 6th July, 2015 joined others Ambassadors and presented his Letters of Credence to President Mr. François Hollande at exactly 17:00hrs Zambian time.
During the presentation and bilateral discussion, President Hollande welcomed Ambassador Chibanda to France and stated that Zambia enjoyed cordial relationships with France and applauded Zambia's efforts in maintaining peace and stability in Africa and specifically Zambia`s role in restoring peace in Central African Republic by sending peace keeping forces. President Hollandes acknowledge the strides Zambia is making in developing the economy and assured the Ambassador of France's support in economic development. Further, the President informed Ambassador Chibanda that France is working towards balancing up relations between the Francophone and Anglophone countries in Africa and thus the renewed interest in countries such as Zambia.
Meanwhile Ambassador Chibanda in his presentation of Letters of Credence speech and bilateral discussions with President Hollande thanked President Hollande and the People of France for accepting and allowing him to represent Zambia in France after been appointed by His Excellency President Edgar Chagwa the Sixth President of the Republic of Zambia.
Ambassador Chibanda recognised that France and Zambia, though separated by long distance, vast oceans and mass land have continued to enjoy warm and cordial long standing bilateral relations since Zambia attained independence 50 years ago. Ambassador Chibanda said during his tour of duty in France he will continue to develop the already exiting bilateral relations to strengthen further the relations for the mutual benefit of the two countries.
Further, Ambassador Chibanda recognised the pivotal role that France has been playing in the promotion and maintainance of peace and security in international affairs with particular emphasis on the African continent. Ambassador Chibanda informed President Hollande that Zambia like France has remained one of the countries in Africa that is committed to good governance, upholding of democratic principles and respect for Human Rights. He added that Zambia has continued to be a pioneer of dialogue in countries which have been faced with conflicts on the African continent.
Ambassadors Chibanda also informed President Hollande that the peace and stability and the good economic performance has resulted in massive foreign and local investment in the country. And that Zambia and France have enjoyed good bilateral economic relations resulting in over 20 French companies investing in various sectors of the economy. He highlighted that Zambia is grateful for the continued positive response from the French businesses who have expressed desire to do business in Zambia because of the attractive and competitive investment climate as evidenced last month of the visit to Zambia of almost 30 French companies to explore business opportunities. Ambassador Chibanda also commended France's bilateral support to Zambia in the fields of water energy and infrastructure.
On Tourism and Culture. Ambassador Chibanda recognised the fact that France is the world leader in tourism visitors receiving over 80 million tourists annually and that given Zambia's tourism potential this is will be one area in which he will vigorously pursue to learn how France has continued to remain at the top in terms of tourism visitor numbers. The Ambassador called for more French visitors to go and explore Zambia.
Lastly but not the least Ambassador Chibanda said "Your Excellency, Zambia is happy with France's renewed interest in the country and it is my government's desire that these already warm bilateral relations will be further enhanced."