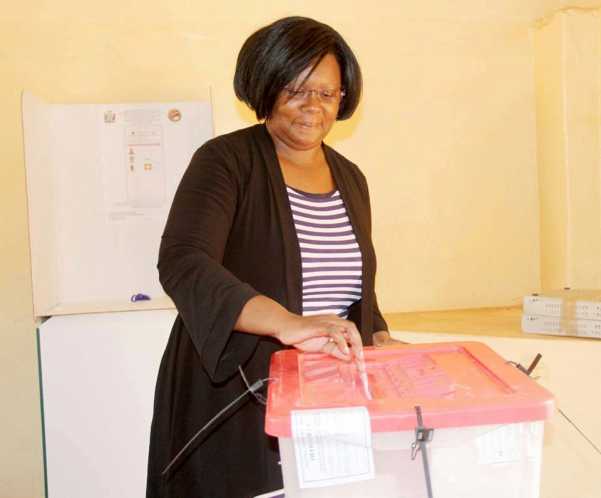 Patriotic Front (PF) candidate for Petauke Central Dora Siliya casts her ballot. People in Petauke are voting after almost two years without representation in Parliament.
Below are the reactions of how people feel about Dora Siliya's candidature.
Valencia Mwewa says "No change will be seen in petauke if Dora wins.She's been an MP in the same area before and don't think that she 'll improve the area .Tribalism and nepotism at pick in pf, at wako ni wako what a manager.".
Bashi Carthlyn Hills also posted on Facebook, "Hopeless, Hopeless ! All is Vanity, all is Vanity for even Dora Siliya in our way is nothing but A Rolling stone, a Sell out. Fr Frank Fullish Bwalya was even busy chanting Dora Siliya, was it not some two to three years ago Dora Siliya told this Foolish Father that he gets fucked in the *******s and other Priests too gets screwed in the *****s ! hopeless PF and carders, Vanity youths who supports blindly, woe unto Zambia for I & I has foreseen a great misery upon youths, Is it not Edgar Lungu who with The Late Micheal Sata lifted Rupiah Banda's Immunity but today R B is in the pockets of Edgar Lungu !!!! Hopeless fullish carders. I think Pilato shud do a Remix of PK Chishala's song #Common_Man coz ubu bupuba to the highest degree. Hopeless PF. Down with Dora siliya a Rolling Stone. Fya Burn upon thy Dora siliya queen of shameless women".
Shadreck Liwakala had this to say, "But people of Petauke,Dora was in for so long hw specio is she?cnt u chnge and bring in a different person,".
Lemmy Vinci Shimoono, "A criminal casting a vote..wow,this is a democracy indeed"