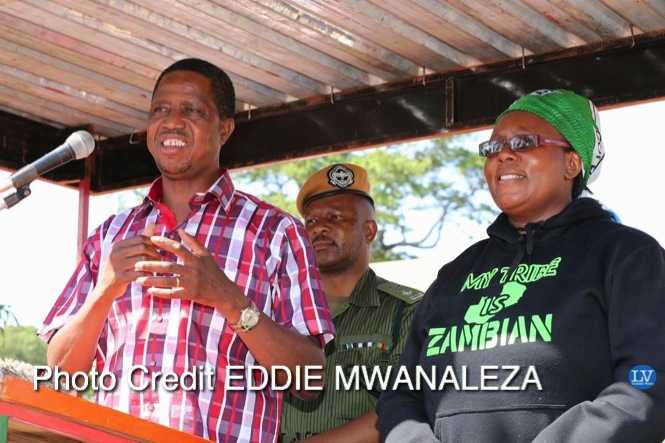 President Edgar Lungu has appealed to PF members to embrace new members and forgive one another.
President LUNGU says PF members should work with new members.
The President says founding PF President Michael Sata demonstrated this when he appointed into cabinet some of the people that discredited him in the past.
The President was speaking when he addressed a public rally in Mulobezi to drum up support for Patriotic Front Candidate Patricia Mulasikwanda in Tuesday's Parliamentary by-elections.
Other candidates contesting the Mulobezi seat are Alfred Mandumbwa of UNIP, Collins Mbangu of the Alliance for Democracy and Development, Hastings Sililo of the United Party for National Development and Esau Mwanza of the Green Party.
Meanwhile, all is set for the Petauke Central Constituency by election, with dispatch of ballot papers and officials to all the 53 polling stations having commenced.
Petauke District Electoral Officer Pathius Sumba has told ZNBC News that ECZ has also engaged over 4-hundred officials who include poll staff and security personnel for Tuesday's by election.
Mr. Sumba says the ECZ has also provided 7 Toyota Land cruisers for each of the 7 wards in the constituency for fast transportation of results.
He says he is expecting all poll staff to be at their stations by 15-hours after having started the dispatch at 09:30 hours.
Petauke Central Constituency has 46-thousand 6-hundred and 28 registered voters and a population of 3-hundred and 66-thousand.
Meanwhile, UPND Candidate Allan Zulu says his campaigns have been going on well and he is doing final touches today.
And UNIP Candidate Ignasio Phiri says he has also campaigned well but cannot say what makes him a better candidate among the three, noting that only final results will tell.
However, PF Candidate Dora Siliya has ruled out any opposition in the elections saying she is confident of victory.
ZNBC