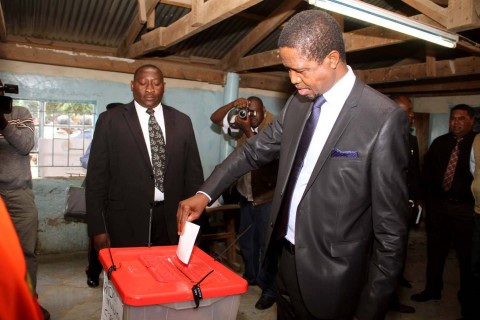 The Electoral Commission of Zambia (ECZ) says preparations for next year's general elections are underway.
ECZ Director Priscilla Isaac however says that some aspects of the electoral process will be put on hold to await the outcome of the adoption of the national constitution.
Mrs. Isaac said the final outcome on the national constitution would impact on some of the electoral laws and regulations as they would require some amendments before next year's tripartite elections.
"Depending on what will be the outcome for the constitution, we may need to wait as there may be an impact on some of our electoral laws and regulations which may need amendments," she said.
She said the commission was in the planning stage of the 2016 General Elections, and in the process of letting government know its budgetary needs and areas in the training manual, which needed revisions.
Mrs. Isaac said this in Livingstone on June 25th  when she presented a paper on 'Lessons learnt in managing an election and conflict resolution,' at the closing session of the Consortium for International Management, Policy and Development 10th International Conference.
The ECZ Director further said political parties in the country had a big task of convincing the electorate that it is worthwhile to vote, going by the voter apathy experienced in the last presidential election.
She said political parties had to enhance their efforts to get people to vote as voter apathy in some cases was due to lack of development in some areas over the years, even when people exercised their civic right to vote.
"As a commission we will do our part but each individual has that civic responsibility. We say if you don't vote, don't complain. But people say they vote but still complain as economic development has continued to elude them in some parts of the country, since independence," she said.
And a Public Administration Lecturer at Uganda Management Institute, Stella Kyohairwe said her country was also faced with the challenge of voter apathy in its 2011 General Elections but noted that political parties contributed significantly to election outcomes.
Dr Kyohairwe said political parties usually caused problems which led to the outcome of elections being questioned mostly because the processes of primary elections within their party structures were not as transparent as possible or as expected.