The Chipolopolo CHAN squad arrived safely in Windhoek,Namibia ahead of Sunday's match against the "Brave Warriors" of Namibia at the Sam Nujoma Stadium.
The Zambian delegation touched down at 14.45 hours local time and were received by the Namibian Football Association officials and staff from the Zambian High Commission.
Delegation leader Jeff Chipilingu has told @fazfootball.com that the team is booked at Windhoek Country Club Resort.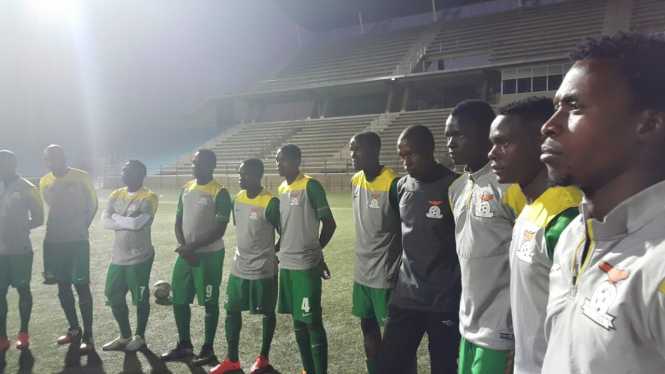 And Chipolopolo are leaving no stone unturned ahead of the Sunday assignment which striker Jimmy Njovu has called "payback time" for Zambia.
The team has already been to the stadium for a loosening session which coach George Lwandamina says is very important in the preparation for the match on Sunday.
Zambia will this weekend commence her campaign for a place at the Rwanda CHAN 2016 games with a match against a Namibian side that won the COSAFA regional tournament twenty days ago and parted ways with its coach twenty four hours ago. In the said tournament Zambia was eliminated via post match penalties by Namibia after a barren draw in regulation time.
Coach Lwandamina has assembled a side that combines talent, tact and experience through the likes of defender Buchizya Mfune, rampaging winger Allan Mukuka and striker Patrick Ngoma.
Kondwani Mtonga, Bronson Chama, Christopher Munthali and Danny Munyao are players that have experience in this competition, having been in the squad that won the 2013 COSAFA crown after beating Zimbabwe two nil but failed to replicate the result in the CHAN qualifier for 2014 against the same Zimbabwe Warriors. Zambia lost by a lone goal at Levy Mwanawasa was a stadium.
The CHAN tournament is a competition organised by CAF for locally based players to showcase their talent.
Zambia's match on Sunday will kick off at 15:30 hours.
The Full Squad:
Danny Munyao Arrows
Jacob Banda Zesco
Christopher Munthali Power
Fackson Kapumbu Zanaco
Justin Zulu Zesco
Kondwani Mtonga Zesco
Paul Katema Arrows
Jack Chirwa Buffaloes
Donashano Malama Nkana
Patrick Ngoma Arrows
Jimmy Njovu Power
Allan Mukuka Buffaloes
Jackson Mwanza Zesco
Patson Daka Nchanga
Buchizya Mfune Buffaloes
Winston Kalengo Zesco
Charles Zulu Zanaco
Bronson Chama Arrows.
SOURCE : FAZ