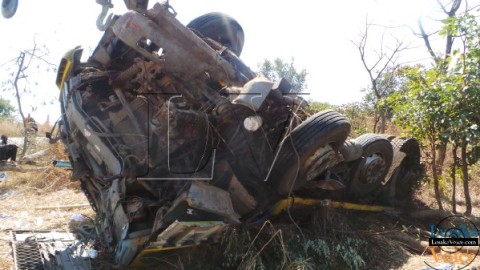 Itezhi Tezhi District Commissioner George Sichula and Itezhi Tezhi district hospital authorities have confirmed the accident which happened yesterday around 19:00 hours to ZANIS today adding that eleven (11) other people mostly pupils were injured.
The accident reportedly happened when a Toyota Hilux the pupils and other people were travelling in failed to climb a hill at Makalachambwe area   along the D769 road about 15 kilometres from Itezhi Tezhi town centre.
The vehicle, which was reportedly not road worthy was carrying 15 people mostly students who were travelling back to their homes after participating in ball games at Basanga Primary School in Chief Musungwa's chiefdom in Itezhi Tezhi.
Mr. Sichula said 13 people were rushed to the hospital while two died on the spot and the driver of the vehicle is on the run.
 The dead have been identified as 18-year-old boy Clackson Mufumbi and a 17-year-old girl Orient Muleya both of Nkobo area.
Mr Sichula named those injured and admitted to Itezhi Tezhi district hospital as Sipatela Grace (15) , Besnart Mbewe (17), Lisa Kaambwa, Mary Bubala, Jane Kazovu, Mikailo Choonga and Harriet Mwaanga.
Others are Guift Hambinga, Sinikiwe Mphande, Clifforsd Simunyanga, Goft Simbeleko and Ian Hamainda.
Mr. Sichula said that the district disaster management team will provide coffins and other logistics for the funeral of the two pupils.
Mr. Sichula has since appealed to vehicle owners in the district to ensure that they were road worthy.
He said that there has been a bad trend where people have been avoiding to take their vehicles for fitness whenever  the Road Transport and Safety Agency (RTSA)  were in the district for mobile inspections.
Two pupils of Nkobo area in Chief Kaingu's chiefdom in Itezhi Tezhi have died on the spot in a road traffic accident.