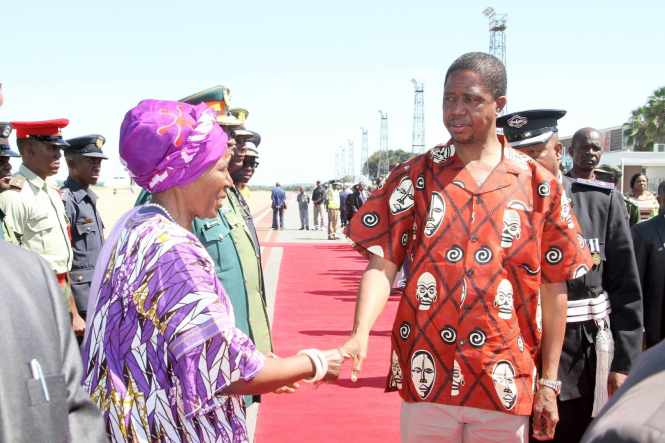 VICE-PRESIDENT Inonge Wina says Zambians have confidence in the Patriotic Front (PF) government because of the development projects they have been implementing in the last three years.
Speaking at a rally in Mongu where she received 120 defectors, Mrs Wina said the PF rank and file is "swelling" based on the performance of the ruling party.
"Zambian people are tired of experiments and they want to see a party be in power for more than five years. This is why we have continued to receive new members like the ones we are receiving today," she said.
The Vice-President said the PF does not need to bribe anyone to join the ruling party as people are compelled by the party's performance.
"I have seen reports in the media that PF is using money to buy defectors. Have we bought you to defect?" Mrs Wina asked as the news members in unison replied: "Batili (no)".
The Vice-President welcomed 120 defectors from the United Party for National Development (UPND) and MMD who were led by their provincial chairperson Katongo Kameya and chairlady Ethel Wamunyima. Former MMD Western Province chairperson Joseph Mulyata was also among the defectors.
Speaking earlier, PF Western Province chairperson Charles Mututwa said the party has been receiving new members quite frequently.
He said the people of Mulobezi have indicated that they would like to work with the ruling party because they want development.
And Mr Mulyata said he joined the ruling party because the province needs development. He said his defection will motivate more people to join the PF.
The former MMD provincial chairperson said Mongu will give the PF massive votes in the 2016 elections.
Mulyata also thanked Mrs Wina for the warm welcome accorded to the new members.
Meanwhile, Mrs Wina is expected in Mulobezi to drum up support for the PF parliamentary candidate Patricia Mulasikwanda in the June 30 by-election.
She is also expected to check on development works in the newly- created district.
Zambia Daily Mail