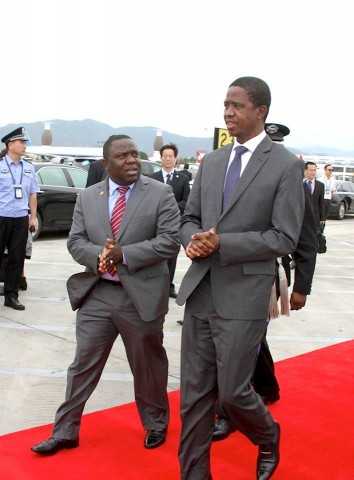 Foreign Affairs Minister Harry Kalaba says Zambia is working with the Government of Rwanda on possibilities of extraditing fugitives who fled from the 1994 genocide.
Mr Kalaba says the fugitives should answer questions on their role in the war in Rwanda.
He also says issues of former refugees who have refused to go back to Rwanda are being handled at the highest level.
Meanwhile, President Edgar Lungu has sent a special message to his Rwandan Counterpart, Paul Kagame.
Mr. Lungu's letter was delivered by Foreign Affairs Minister, Harry Kalaba in Kigali, Rwanda, last night, when President Kagame held closed door talks with him.
Mr. Kalaba was accompanied by Zambia's High Commissioner to Tanzania, Rwanda, Comoros and Uganda, Judith Kapijimpanga.
Earlier, Mr. Kalaba held talks with his Rwandan counter-part, Louise Mushikiwabo.
And Rwandase Foreign Affairs Minister, Louise Mushikiwabo says her Country has identified Zambia as a powerful Country to source teachers of English.
She also says Rwanda is looking to Zambia for expertise in mining.
Ms Mushikiwabo further says her Country wants to rely on Zambia for cement and sugar.
znbc