To get to Chinzombo, a two year old luxury lodge in Zambia's wildlife rich South Luangwa National Park, you start out in a typical safari vehicle, passing general stores and a surprising number of hair salons in the village of Mfuwe. Once in the park, it's all Big Five viewing. But then you stop at the Luangwa River and get into a boat, the only way to reach the lodge. Navigating around hippos soaking in the river, you cross the still waters to the lodge on the other side, sophisticated in its design and absolutely remote.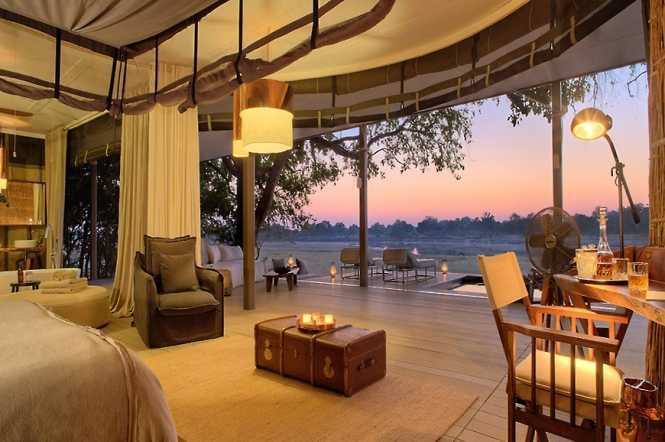 The lodge is part of Norman Carr Safaris, the company formed by the safari pioneer who founded the first camp in Luangwa in 1950, brought people to see the animals instead of hunting them, promoted wildlife conservation in concert with the local community, a concept way ahead of its time, and started walking safaris, a first. The lodges are meant to be natural, blending in with the environment and Chinzombo, the most luxurious, does as well although it achieves it in very high style, designed by the noted team of Silvio Rech and Lesley Carstens, designers of, among others, Jao Camp in Botswana and North Island in the Seychelles.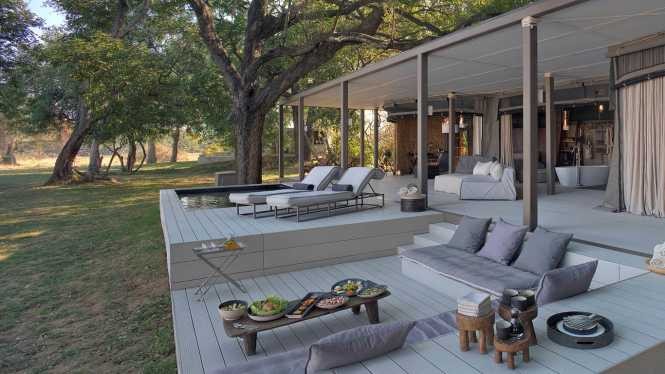 The lodge is intimate, just six villas , each constructed with local building techniques in a circular pattern of reed and thatch with interior canvas walls, all in a color scheme of brown and gray to disappear into the covering msikzi trees. Rech and Carstens say their design is pared down to the essence of what a safari camp should be and it feels deceptively simple but there are textures and details everywhere—hanging copper lamps, stitched leather trunks, tree trunks as table bases, a live tree as the centerpiece of the living room–as well as conveniences that you wouldn't expect: WiFi in every villa and an innovative air conditioning system that is piped into the mosquito netted bed. The villas also open to elevated platforms and individual plunge pools, a perfect place to sit while watching and listening to the hippos lazing in the water in front. (And who come out to graze, noisily, around the villas at night.)
For more wildlife viewing, guides Abraham Banda and Gideon Mphasi are adept at providing the hoped for wildlife experiences such as spotting leopards in trees and negotiating very close encounters with elephants. Abraham is also a master at sundowner drink preparation, overlooking the river with the red skies at sunset in the absolute quiet of this very special place.