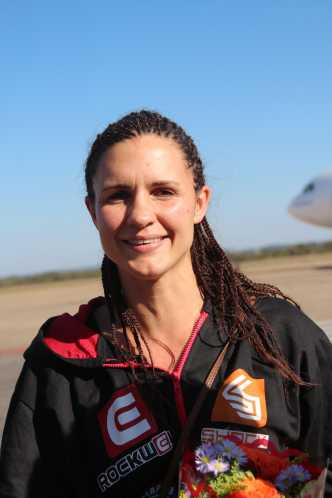 South Africa's Sandra Almeida has said she is not intimidated by Esther Phiri and is aiming to knock her out in the fifth round.
Speaking to journalists just after arriving at Kenneth Kaunda International Airport this afternoon, Sandra said she was here for business and was looking forward to a good technical fight.
Sandra Almeida and Esther Phiri  will battle  for the World Boxing Federation and Women International Boxing Association welterweight unification title this coming Friday.
"We have come here for business, we don't play in the ring. Obviously we are going to dominant forth or fifth round. I don't scare easily, for me Esther is like one of those little hyena wanting to steal meat from the lion, she is in for some trouble," she said
Sandra, who recently came out of retirement after taking a two year break said, "I like to box against someone who knows what they are doing. I am hoping Esther has skill and isn't just trying to blow me like they do in the rough sides of towns. I want a nice technical fight and we can see whose skill is the best".
Though she has never knocked anyone out, the South African boxer professed that she was working on knocking out Esther.
"I have never knocked anybody out but we have been working towards a knock out. I will dominate the match, I often frustrate my opponents.I believe in myself. Boxing is tough. Nobody can send me into retirement because I love boxing so much," Sandra added.