KELVIN KACHINGWE, Lusaka
YVONNE Mwale is reported to have started her 2015 tour on a high note with her first concert in Frankfurt, which is her new home, nearly selling out.
Her management says in a statement the concert at Brotfabrik, a popular concert venue in Frankfurt, attracted all kind of lovers of live music, thanks to the support from the local media.
The concert in Frankfurt was not only the official opener for Yvonne's 2015 European tour, but was also meant to celebrate the launch of the Europewide launch of the distribution of her album in various countries.
"The first weekend of Yvonne Mwale's 2015 tour started with a big bang…For Yvonne Mwale quality and authenticity in her music are essential.
"Therefore together with her production team she put together a dream team of musicians: 'Sir' Jones, Zambia's award winning guitar legend and Mohamed 'Twaba' Omar, an outstanding percussionist from Tanzania who has been performing with Yvonne since 2011," the statement reads.
"Both were flown in to Germany just a couple of days before the first concert. The band is complemented by some high-profile musicians from Germany. The efforts were worth it: smiles were printed in the faces of the audience. Repeatedly the crowd was applauding and excited about the brilliant performances of both Yvonne Mwale and the band.
"While a number of local journalists covered the event, other Zambian celebrities found their way to Frankfurt: after Anna Mwale was spotted in the audience Yvonne gave her a special welcome and introduced the Zambian music icon to the audience."
After the Frankfurt concert, Yvonne headed to Switzerland for her next concert in the Swiss town of Meilen, where each year a jazz event called the Musig am Zürichsee Festival is held.
The line-up for this year's festival is reported to have been impressive, featuring names such as Abdullah Ibrahim of South Africa and Stephanie Nilles of the United States among others.
"But on Friday night it was Yvonne's time to perform. The Swiss audience was delighted by her vocal skills and the ease in the performance of her band. Temporarily the hall was so crowded that no more people could enter," the statement adds.
All summer Yvonne and her band will have a busy schedule, playing shows all over Germany and in neighbouring countries before 'Sir' Jones returns home in August.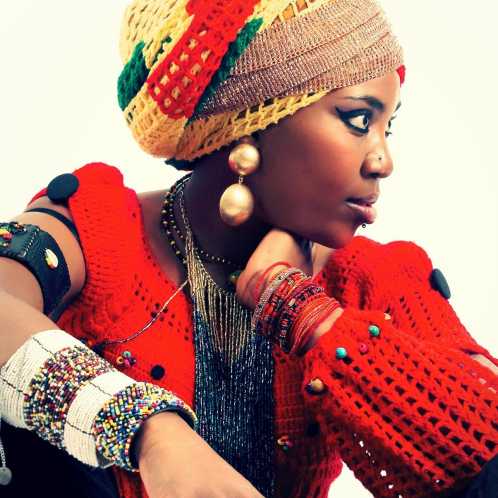 Zambia Daily Mail
Yvonne Mwale – Photo credit habermacher.com