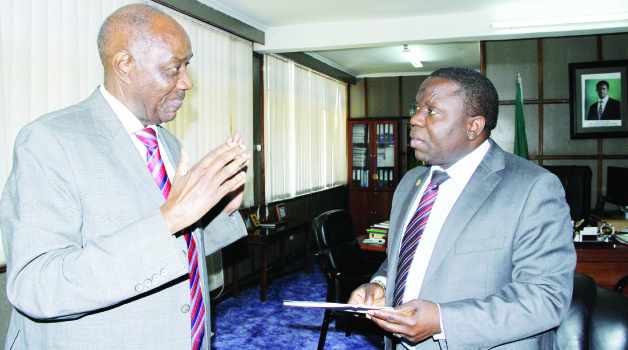 VETERAN politician Vernon Mwaanga has urged Zambians to rally behind the leadership of President Edgar Lungu because he is the President of all Zambians.
Dr Mwaanga encouraged President Lungu to continue with his good leadership and called on all Zambians to render the much needed support for him to succeed.
"The country should rally behind the leadership of His Excellency Mr Edgar Lungu as he is the President of all Zambians," he said.
He was speaking when he paid a courtesy call on Foreign Affairs Minister, Harry Kalaba yesterday.
Dr Mwaanga said he had special regard for the Ministry of Foreign Affairs because the ministry sells the image of the country abroad.
He had always taken the trouble to visit ministers of Foreign Affairs in order to exchange notes.
Dr Mwaanga said he was inclined to work together with the government of the day and help in ensuring that the foreign policy was successful.
He commended Mr Kalaba for assisting Zambia sell the country abroad.
On the multilateral front, Dr Mwaanga said as members of regional bodies, Zambia should forge ahead and engage more in order to derive maximum benefit from belonging to the organisations.
Dr Mwaanga started his career at the Ministry of Foreign Affairs before independence and served twice as Minister of Foreign Affairs in the 70s and 90s.
Mr Kalaba said he appreciated the skills and experience of Dr Mwaanga who he described as a seasoned diplomat, freedom fighter and veteran politician.
Mr Kalaba said the many years that Dr Mwaanga had worked in government and in the Ministry of Foreign Affairs were important not only to the ministry but to the country as a whole.
Dr Mwaanga's life had among others evolved around Foreign Affairs and his visit to his office showed that he values foreign matters and has a heart for the ministry.
He said Dr Mwaanga's experience in foreign relations added a lot of value and instigated a lot of insights on issues happening in the world today.
By CHARITY MOONGA – Times of Zambia