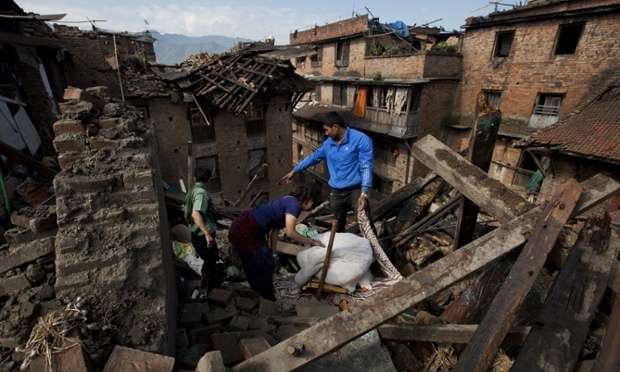 ANOTHER massive 7.3-magnitude earthquake has struck Nepal, killing at least 42 and coming just weeks after the country was rocked by another quake that killed more than 8,000 people.
As rescue workers struggle to reach remote towns and villages, a home ministry official confirmed the initial death toll and said 1117 people had also been injured.
The epicentre of today's quake was 83km (52 miles) east of the Nepalese capital Kathmandu, in a remote area near the border with Tibet and close to Mount Everest base camp.
The US Geological Survey confirmed the 7.3-magnitude quake this morning, having revised it up from an earlier estimate of 7.1.
The amount of damage caused remains unclear but an official with the International Organisation for Migration told AP a number of buildings had collapsed in the isolated town of Chautara in central Nepal.
Three major landslides were also reported, with at least 12 people injured, local officials said.
"The latest earthquake has left us shaken. I am still trembling," Reuters quoted one local official as saying.
Shockwaves were felt across northern India and as far away as the capital New Delhi, where buildings swayed for more than a minute.
Residents in the Indian town of Siliguri, near the border with Nepal, said chunks of concrete fell off one or two buildings.
In Kathmandu, the quake sent people rushing outside of their homes into the streets, but police gave no immediate estimates of damage.
It was followed closely by at least seven aftershocks measuring from magnitude 5.6 to magnitude 6.3.
"Many houses in the villages here had already been destroyed by the last earthquake, but we saw one that had only been cracked collapse," one aid worker told Express.co.uk.
Catherine Cowley, a Catholic Agency For Overseas Development based Bakrang in Gorkha District – one of the worst hit districts from the first quake – said: "Across Nepal, a lot of houses which were already partially damaged could fall down. Everyone is scared that more buildings will collapse.
"When we started the car to leave the village, a woman screamed because she thought the engine noise was another aftershock. People are traumatised and panicking.
"Driving through the countryside you can see people gathered outside, terrified of going indoors."
The same region was devastated by a 7.8-magnitude earthquake on April 25, which killed at least 8,046 people and injured more than 17,800.
That quake hit at a depth of 15km (9.3 miles), while today's hit at a shallow depth of 18.5km (11.5 miles).
More shallow earthquakes tend to cause more damage at the surface.
Everest Base Camp was evacuated after an avalanche triggered by last month's quake killed 18 climbers.
Mountaineers seeking to scale the world's tallest peak have called off this year's Everest season.
expressuk