Lafarge Zambia has launched its Shared Service Centre (SSC) Offices and Training Centre (TC) which will deliver services to Chilanga, Ndola and Mapepe Aggregate plants.
The Share Service Centre is a customer oriented business model driven by continued process improvement through the delivery of best services at least cost.
The launch was held on Friday 8th May 2015 at Lafarge head office, Chilanga and was officiated by Deputy Minister of Justice and Chilanga Area Member of Parliament Hon Keith Mukata, Lafarge Zambia Chief Executive Officer Mr. Emmanuel Rigaux, and Lafarge Zambia Chief Financial Officer, Mrs Chrissie Moloseni.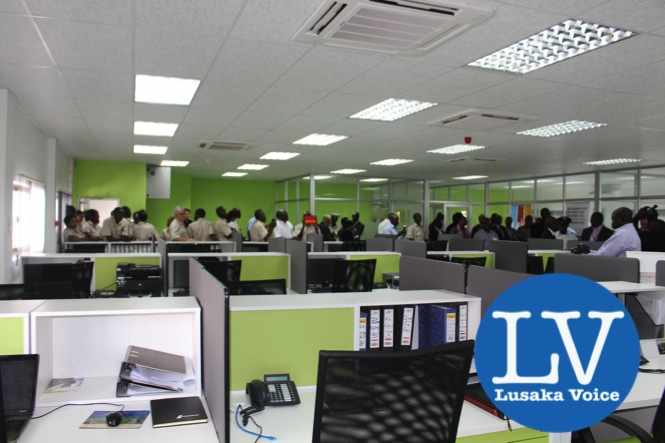 Speaking at the event Lafarge Zambia CEO said the launch of the Shared Service Centre and the Training Centre would create a new working environment for support functions and would improve internal and external customer experience through the adoption of best practices. He called on the employees to show an improved level of performance for satisfaction of customers, suppliers and other stakeholders.
Meanwhile, the Lafarge Zambia CFO said there were currently 14 Shared Service Centres in the Lafarge group And Lafarge Zambia Shared Service Centre was the first Shared Service Centre in sub Saharan Africa. She said that the new Shared Service Centre offices will house Procurement and Accounts under one roof.
"The new building will accommodate a talented workforce under one roof in a beautiful, compact and modern set up in order to promote efficiency, improve service delivery and transparency" said Mrs. Moloseni.She further said that the shared service model of operations would help promote end to end process flows with no bottlenecks and would also promote a service culture that enhances customer satisfaction for both internal and external customers.
On the other hand, the Deputy Minister of Justice and Chilanga Member of Parliament Hon Keith Mukata who was represented by the Chilanga District Administration Officer Mr Freza Musonda, commended Lafarge Zambia for launching the Shared Service Centre, which was focused onpromoting customer satisfaction and business growth.
The MP said employment creation and CSR initiatives would be sustained only if the company continued to grow its business. Therefore, the SSC was a good initiative that was welcome because it was designed to promote customer satisfaction which ensures continued business growth.
Hon. Mukata further urged Lafarge Zambia employees to apply themselves fully in the work of the SSC to stimulate confidence incustomers and other members of the community.