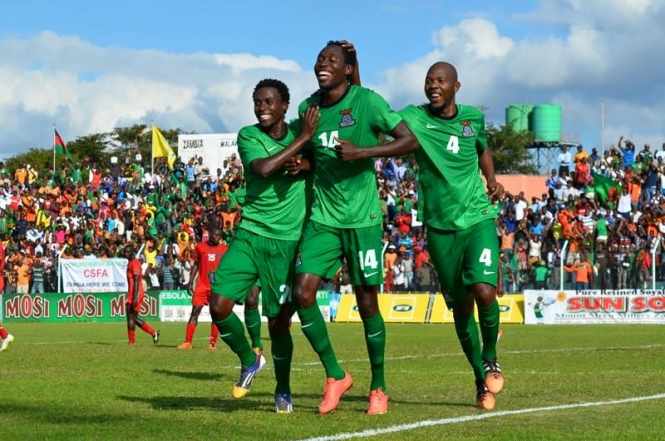 Chipolopolo of Zambia thrashed the Flames of Malawi 2-0 in an International friendly match played at Nkoloma stadium in Lusaka this afternoon.
Defenders, Christopher Munthali and Kondwani Mtonga put the team in the lead when they both scored in the first half.
The Chipolopolo boys dominated the game with hundrends of supporters cheering them throughout.
The boys proved to be in form ahead of the 2015 COSAFA Senior Challenge Cup, and the AfCON 2017 qualifiers scheduled for next month.
In an interview after the match Zambia Coach, Honour Janza, said the result was good for cooperate image but he expected more from the boys.
" The result is good for cooperate image. Winning is good, it gives us momentum to go forward. We must be mindful of where we are going and improve.
" We still need to master the philosophy of regaining the ball quickily once we loose it to the opponents," he added.
Malawi Assistant Coach Jack Chamangwana said playing against Zambia was an opportunity for them to learn.
"Zambia played deserved to win as it was playing very well. My team is full of very young players so this is all about making ourselves stronger," Chamangwana said.