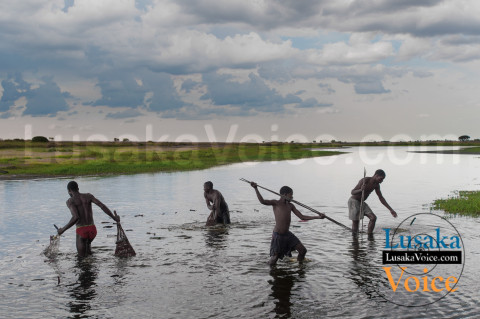 Fisheries experts from Zambia and Malawi have bemoaned the poor fish harvests coupled with increasing mismanagement of stocks in the Zambezi river in Mongu district.
The experts from the Fisheries Department, the University of Zambia and Malawi have further bemoaned the post-poor harvests and mismanagement of fish stocks in the Zambezi River in Mongu District of Western Province.
ZANIS reports that this came to light yesterday when delegates from both the University of Zambia and Malawi analysed the ingredients leading to losses occurring in fish volume, nutrient content and economical value in Mongu District.
This was during a one-day workshop held in Mongu.
Provincial Agriculture Coordinator (PACO) Alex Chilala said fish production was high from 2002 to 2009 with 8000 metric tonnes production but reduced drastically to below 5000 tonnes in 2010.
Mr. Chilala revealed that the increased number of fishermen and mismanagement of fish stocks coupled by the illegal use of fishing gears such as Sefa Sefa has negatively impacted  the fish population in both Lake Chilwa of Malawi and the Zambezi River.
Mr. Chilala stated that climatic change and environmental degradation have greatly contributed to the reduction of fish and called for co-management efforts in the conservation of fish.
And Acting Principal Fisheries Officer Gething Chisule disclosed that the fight against fish mismanagement was not only a battle for the Fisheries Department but also for all stakeholders and the traditional leaderships.
Meanwhile, World Fish Senior Scientist Kate Longley observed that the supplies of fish in the Sub-Sahara Region were reducing.
Dr Longley predicted a further down-fall in the next two decades hence the need to quickly put in place measures to intervene.