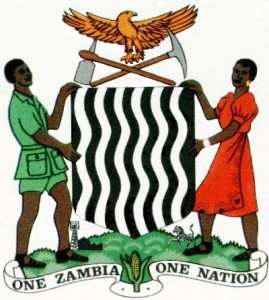 Parliamentary Committee on National Security and Foreign Affairs has urged members of the public to take good care of their Zambian National Registration Cards and always be security conscious.
Chairperson, Ronnie Shikapwasha said that there was need for members of the public to work with relevant government wings in safeguarding national security.
Lieutenant General Shikapwasha said that it is unfortunate that some Zambian citizens were conniving with immigrants to facilitate foreign nationals' to acquire green national registration cards.
Lt. Gen. Shikapwasha advised members of the public to be wary of foreign nationals that were going round villages in various districts of the country paying money to local people in order to help them acquire Zambian national registration cards and facilitate their illegal stay in the country.
"This is a security matter. Members of the public should be wary of such criminal activities," said Lt. Gen. Shikapwasha who is also MMD Keembe Member of Parliament warned.
He was speaking during the parliamentary committee on national security and foreign affairs' public hearing on the operations of the national registration office held in the council chamber in Kapiri-Mposhi yesterday.
He was commenting on concerns raised by MMD Chibwelelo ward Councillor Dorothy Musezye Mambwe who said that green national registration cards belonging to deceased Zambian nationals were being used by foreign nationals.
"It surprises me how national registration cards belonging to deceased Zambians are usually found in the hands of foreigners who in turn are abusing these important documents by engaging in criminal activities. This raises serious concerns for some of us," Mambwe submitted.
Ms Mambwe noted that government should devise mechanisms where national registration cards belonging to deceased Zambians should be surrendered to the state.
She said there was need for the Ministry of Home Affairs to come up with an archive for national registration cards and passports because the said documents were government property.
Zambezi West Member of Parliament Stephen Katuka said that members of the public that had lost their national registration cards and would want to acquire new ones during the mobile registration exercise which begins this month were not supposed to pay money for police reports.
Mr Katuka urged officers deployed to conduct the on-going mobile registration exercise in Central Province not to make people pay for the acquisition of police reports.
"Corruption levels have gone so high. People are made to pay when obtaining national registration card and this is posing a challenge to members of the public," said Mr Katuka.
And Serenje Central Member of Parliament Phillip Kosamu said it was legally and morally wrong for officers entrusted with the mandate to issue national registration cards to ask for money for talk time from clients.
Mr Kosamu warned registration officers engaging in corrupt activities by taking advantage of members of the public that find themselves in desperate situations when acquiring important documents.
"That is wrong, it amounts to corruption. That is not a normal procedure. Those officers should not levy you for their talk time," said Kosamu.
Mr Kosamu and Mr Katuka were responding to concerns raised by Kapiri-Mposhi residents who revealed that they were being made to buy talk time for registration officers when verifying details with their initial district of registration.
Kapiri- Mposhi district council Chairman, Frank Mwanza, said that there were reports from members of the public to the effect that registration officers were asking their clients to give them money for air time each time they wanted to replace their lost national registration cards.
Mr Mwanza said that registration officers insist that they verify clients' details with their counterparts from a district where a client initially acquired the national registration card before issuing a new one.
Zanis