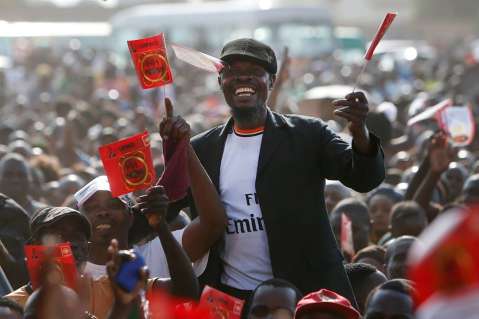 2nd May 2015 – The Wage Freeze Issue OFFICIAL STATEMENT
During the Labour day celebrations President Edgar Lungu gave a directive to Hon Alexander Chikwanda to lift the wage freeze. He further directed Hon Fackson Shamenda to conclude negotiations with trade unions by December 2015.
First we are happy that the wage freeze debate is over. It was expected that Lungu wanted to play a political card on this. We all know that Chikwanda's freeze was for two years. We fought this since 2013. As we celebrate that little victory we are immediately dismayed by the timelines. Edgar Lungu has set December 2015 as the deadline for collective bargaining. At that time the Appropriations Act that authorises Government spending for 2016 would have already been passed by Parliament. So what will they be negotiating with Government when the budget would have already been completed?
Secondly, President Lungu and his spokesperson are on record stating that they will have 2.3 billion Kwacha less revenue this year than budgeted. They will defer some of the projects. Defer to when? 2016. And they want us to believe that the door will be open to add a wage bill that might go up by over 20% since the civil servants would not have had an increase in two years.
Our position is simple. Firstly, under a UPND-led Government there would have been no wage freeze to start with. Why freeze wages to accommodate the wasted revenues spent on a bloated cabinet, expensive by-election after by-election, sending large delegations on international trips on an almost weekly basis and growing debt payments. Secondly, improve tax revenue collection. This is a point PF will never address because they are used to the easy way out: borrowing. Thirdly, by expanding the economy and creating a supportive environment for Zambian businesses to grow the tax base will increase along with Government revenues. Together these steps would not lead our civil servants to such inhuman treatment as wage freezes, particularly in the face of the rising cost of living.
Edgar Lungu has not effected the lifting of the wage freeze. There won't be any new salaries in 2015. He has simply lifted the "no negotiation" position that was effected 2 years ago by the Minister of Finance Alexander Chikwanda. This change did not need to be done on an occasion like labour day.
Percy Chanda.
UPND Chairman – Labour and Industrial Relations