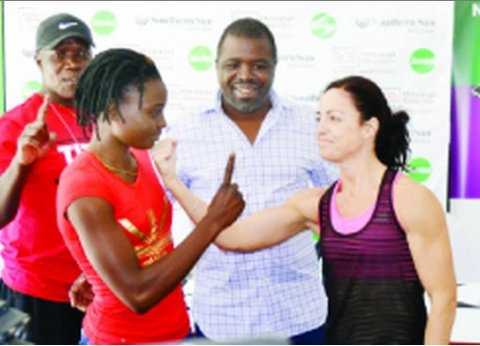 By GWEN CHIPASULA –
HISTORY is beckoning for Zambia's boxing heroine, Catherine Phiri today when she faces Irish woman, Christina McMahon for the vacant World Boxing Council (WBC) Gold bantamweight interim belt at Mulungushi International Conference Centre in Lusaka.
Catherine was initially supposed to have fought then WBC champion, Jessica Gonzalez but the Mexican pulled out of the bout after dumping the belt.
Tonight, the Grade 11 pupil will slug it out against the 40-year-old McMahon, who entered professional boxing ring in 2012 and is undefeated in six bouts with a 50 per cent knock out record.
Catherine, the WBC Silver interim champion, also has not lost in 10 straights with five of those coming through knock outs.
Going into this fight against an opponent almost twice her age, Catherine said she would not underrate the boxer from Monaghan but would also not fear her in the ring.
"I am not going to underrate her because she looks like a good boxer, but I am at the same time very, very excited for tonight's fight and I cant wait for these few hours remaining," she said.
Oriental Quarries Boxing Promotions (OQBP) had set a budget of K763, 000 with Catherine assured of receiving K100,000 as purse money whatever the outcome of the bout.
This event has attracted a number of sponsors.
Zamtel came on board with k250, 000 and another combined sponsorship worth K180, 000 came from News Café and Karibu Investment Limited last month.
During yesterday's weigh-in, Catherine tipped the scale on 53.6 kilogrammes but later managed to weigh the recommended 53.5kgs for a WBC bantamweight while Christina weighed 53.3kg.
Christina said weighing 53.3kg just showed how much ready she was for the fight.
"I am a professional, I gain weight and lose it and if I was ready for this scale then this just shows how ready I am for tonight's fight, I really can not wait to take the title back home with me," she said.
The event will also have other supporting bouts like WBC international welterweight champion Charles Manyuchi who will be fighting Ibrahim Class of Tanzania.
OQBP's budding boxer, Alfred Muwowo will fight Thinani Kamanga while another Oriental pugilist, Mbiya Nkanku has a date with Salimu Chazamu in an international non-title welterweight contest.
Female boxer, Lolita Muzeya will face Aneres Khanti while Gibon Kamota will battle with Philimon Hara in another welterweight bout.
Meanwhile, Zambia Professional Boxing and Wrestling Control Board chairperson, Nelson Sapi has thanked the OQBP for the continued support to growing boxing in the country.
Sapi also announced the arrival of the ring officials for this evening's boxing bonanza.
Briton John Lewis will be the referee, with other ring officials coming from Zimbabwe, Ghana and Uganda.
Times of Zambia