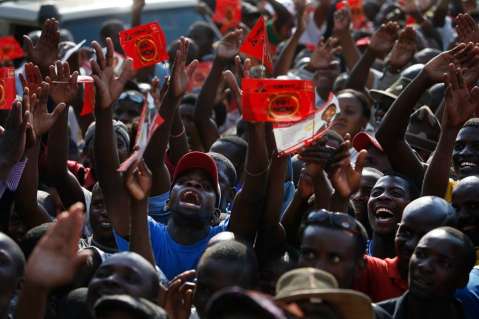 The opposition UPND has announced plans of carrying out countrywide protests against government's plan to table constitution amendments when Parliament resumes its sittings in June this year.
The UPND which has hinted on working with the civil society will commence its protests on the 14th of May this year.
UPND Lubwa Ward Youth Chairperson Chisankama Mudenda has disclosed to Qfm News in an interview that his party will be honking and wearing black attire during the protests.
Mr. Mudenda has explained that the protests are meant to express his party's displeasure over the piecemeal constitution amendment path which the PF government has adamantly embarked on contrary to what the people of Zambia want that the country's entire new constitution be adopted through a referendum.
Asked how long the protest will take and whether his party is optimistic it will succeed in this endeavor to pressure the PF government rescind its planed June constitution amendments, Mr. Mudenda has said the protests will take as long as the constitution is not adopted through a referendum.
He states that he is personally ready to have his blood spelt over his party's quest that the people of Zambia have a new constitution which they themselves own and have participated in formulating.
UPND Lubwa Ward Youth Chairperson has particularly warned the PF government to be wary that if the resolve which his party made is not responded to in favor of the people of Zambia it will cause serious confusion in the country.
He says his party is more determined than ever before that the will and wishes of the people prevail over the enactment of their new supreme law.
QFM NEWS