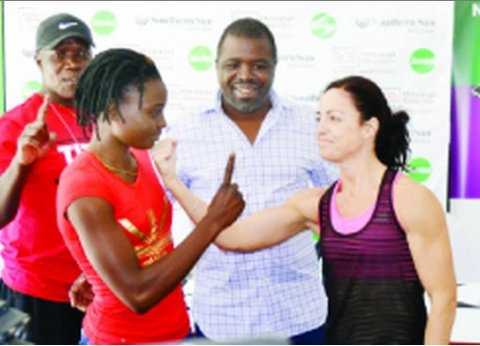 IRISH boxer Christina McMahon says she did not travel this far to Zambia only to lose the World Boxing Council (WBC) bantamweight interim gold title fight to Catherine Phiri.
McMahon said she did not come to Zambia for a holiday but to fight and deny Catherine, a WBC silver champion, a chance to grab the vacant top WBC belt.
When she came face-to-face with Cattherine for the first time yesterday, McMahon said the Zambian top female boxer was the only hurdle she needed to overcome on Saturday to the title.
this weekendand will not take her fight against Cathrine lightly.
She, however, conceded that Catherine was a good boxer who should not be taken lightly.
"Cathy looks like a good boxer, but I am not here for a holiday. She is in my way right now and I will not take this fight lightly," she said.
McMahon, who is fighting her first title fight, said winning this title was a serious issue for her as well as a big challenge.
Her manager-cum-husband, Martin McMahon said there was no negativity in the Irishman boxer as she was thinking nothing but victory on Saturday.
"My boxer is very ready and is very prepared. We are not thinking about losing because we came here for some serious business," he said.
Catherin said she was more than ready to fight McMahon after a long wait.
"I don't have much to talk about as I will talk more in the ring. But trust me even today I can have this fight because I have been waiting for this fight for so long now," she said.
Oriental Quarries Boxing Promotion director of operations, Christopher Malunga said the budget for Saturday's fight had been met and that the winner would pocket K100, 000.
"We had a deficit of K130, 000 in our budget but Oriental gave us so I can confirm that we are very much set for Saturday," he said.
By GWEN CHIPASULA – TIMES of ZAMBIA
Photo credit – TIMES of ZAMBIA