Buildings in Baltimore have been torched and looted—without any police intervention. Now the city is struggling to restore order amid a state of emergency.
BALTIMORE, Maryland — Welcome to your new job, Attorney General Loretta Lynch: Charm City is burning.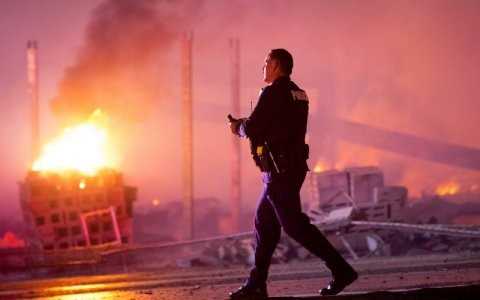 A state of emergency has been declared in Baltimore and the National Guard—some 5,000 of them—is being deployed, Maryland Governor Larry Hogan said, and Mayor Stephanie Rawlings-Blake announced that a curfew is being imposed on the city starting Tuesday, all over the death of another African-American man killed by police. The slaying of Freddie Gray is now under investigation by Lynch's Justice Department.
Hogan vowed that "the city will be safe" while an embattled Rawlings-Blake insisted "we will have order." The governor said law enforcement personnel from across the mid-Atlantic region would be deployed to Baltimore and that state police were in charge as part of the state of emergency, which he said was requested by the mayor. "This darkest day will not define our city," Rawlings-Blake declared.
But for hours Monday, the rioters seemed to have the upper hand.
"Protect and serve? Who am I? I'm a taxpayer, that's who the fuck I am. Fuck the police," a protester screamed at the riot lines local cops set up close to a burning CVS pharmacy—the officers' tasers at the ready. Helicopters flew low, in small circles, observing the crowds.
The Daily Beast observed multiple cases of destruction to property in Baltimore in the areas around Pennsylvania Avenue and North Avenue. That included Yummi's Carry Out, a Chinese and soul food restaurant, and a liquor store called Wonderland Liquor that was looted without any intervention by police — indeed without any law enforcement nearby whatsoever.
Police lines were set up near the most dramatic scenes of violence in Baltimore on Monday afternoon, a CVS that was looted then set ablaze. Protesters angry about police violence, as well as casual observers, congregated nearby.
Credit: The Baltimore Sun
One demonstrator knelt in front of police lines, sobbing about the violence that had happened in the city. "Forgive them God, for they know not what they do," she said.
A mile from the burning CVS, chaos broke out at Mondawmin Mall, where desperate shoppers and looters fled for the exit, driving frantically through the parking lot to escape the violence. Baltimore police set up lines at the mall as well, and said that there had been reports of individuals inside the mall looting and destroying property.
Police seemed powerless to stop the violence as the rioters converged on the North Avenue and Fulton Avenue intersection of West Baltimore on Monday evening. As the weather turned colder, rioters set two cars on fire in the middle of the intersection, and severely damaged at least one more.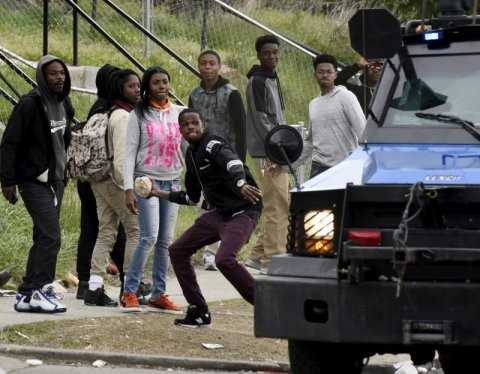 Nearby, two liquor stores were looted and alcohol dumped onto the car fires, causing them to flare up. Bottles also were taken from the liquor store to throw at police, who responded by firing what appeared to be paintballs back at the advancing rioters, splattering white, chalky projectiles across the street. As looters tried to forcefully boost an ATM out of the wall, cops stood two blocks away, seemingly helpless to do anything about it.
The cars burned at North and Fulton avenues for more than 40 minutes before police began advancing up North Avenue, batons striking their riot shields, to form a line in front of the burning cars. Fire officials attempted to extinguish the fires, but the police retreated down North Avenue before they could put out the famese—prompting rioters to rejoice in front of the still-burning vehicles.
Cops stood and watched as rioters drove their cars up to the line to do doughnuts, just meters away from the police line. "Fuck the police!" one driver shouted repeatedly as he spun around in circles and drove away, narrowly missing some other individuals who had assembled in the middle of the street. When an ambulance had the misfortune of entering the intersection, rioters flung a liquor bottle at it.
Local police, even with regional reinforcements, were overwhelmed by the sheer scale of the violence. Just a couple blocks away, the M&N Mini Mart was being looted—and there were no law enforcement officials anywhere within blocks to stop them.
Baltimore municipal and police officials are taking heat for what some consider a belated—and according to some critics, incompetent—response to the wanton looting and torching of buildings. At a press conference called hours after the mayhem began, Rawlings-Blake condemned the violence, but also said there was a need to maintain a "delicate balancing act." Earlier she mentioned that while protecting people and property and trying to quell the unrest authorities also wanted to give "those who want to destroy space to do that." Her office later walked that back, saying Rawlings-Blake did not mean hooligans were being allowed to rampage. But the remark was seen by some as emblematic of what they considered an at best lackluster response by the city. Lawyer and CNN legal analyst Jeffrey Toobin, for example, said the police disappeared "for hours," and criticized officials' actions as a "shocking display of incompetence," adding that their decisions would haunt the city for decades.