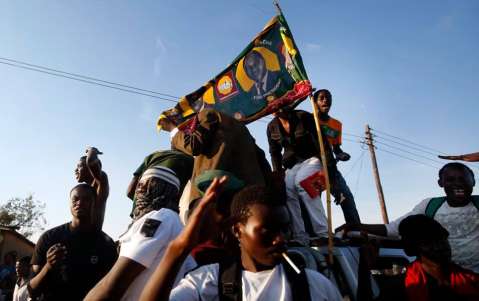 Sometime in the mid 1980s when l was doing my primary school at Chitukuko Primary School in Mtendere, Lusaka, my biggest pass time with my friends was bird hunting using sling shots, then commonly known as malegeni. As a 7 year old, our hunting grounds were large and varied and covered areas from Chainama to UNZA through the golf club, encountering several skirmishes with security guards in the course, the most notorious being a man called Lazaro that worked for Chainama Hills Golf Club then.
During the course of my bird hunting sessions, l had relative success with small and medium sized birds with my largest prize being a bird called pwele. However, l had always wanted kill a larger bird called njiba. As we walked in the bush, there was one occasion when a njiba came from nowhere and landed on a branch which was only about 2 meters from where l was standing. My body was filled with adrenaline at the unbelievable opportunity before me, and l debated whether to just try to catch it with my hands or load my sling shot and open fire.
In the course of my indecision, l managed to load my sling shots and openned fire albeit amidst shivering due to the adrenaline, l barely scratched the njiba and it flew away! I was deeply aggrieved as this was a once off opportunity for me to slaughter a njiba on a silver platter. The entire incident left a bitter taste in my mouth for quite a while. Everytime me and my friends went hunting, l would pray that another njiba comes to land 2 meters from where l was standing, promising myself that this time l would be more prepared to utilize the opportunity. However, that opportunity never arose again.
Fast forward 30 years later, as l was having my breakfast at Arcades by Mint Lounge this morning, a njiba came and landed on one of the large palm trees near FNB, a few meters from where l was seated, l tried to reach for my sling shot but then realized that l didn't hunt birds anymore and a njiba was no longer the biggest prize l aimed for. I simply laughed at myself but the entire njiba episode 30 years taught me an invaluable lesson which l believe could be applicable to Mr. Hakainde Hichilema and his United Party for National Development, whom l shall henceforth refer to as HH and UPND respectively, with no disrespect intended or inferred.
After the untimely death of Mr. Sata late last year, the PF was engulfed with a bitter succession wrangle wrangle, which in my opinion was unprecedented in its complexity in the history of democracy across the entire globe. There was about 3 months which were given to each presidential aspirant to campaign before the election and 30 days to the polls, PF still had no certain presidential candidate with the candidature of Edgar Lungu still subject to the determination of the courts of law due to the challenges filed by Mr. Miles Sampa. HH and his UPND went across the country several times and l think at some point, he must have believed that PF might not file in a nomination and that HHs main contender on the ballot will be Muliokela and the rest of the crew. He then decided to come back to Lusaka and simply watch the PF drama unfold as members got suspended and the suspended suspended the suspender.
As history came to pass, the PF managed to sort out its mess, filled in a nomination and Edgar Lungu narrowly worn the election. The January 20 polls presented the greatest opportunity to HH to win the republican presidency amid PF confusion and after he realized that he has narrowly lost, understandably, it left a bitter taste in his mouth. It reminds me of the bitter taste l had in my mouth after l failed to utilize the opportunity and slaughter that njiba 30 years ago.
I think it is unlikely, not impossible, but unlikely that HH and UPND will ever have another opportunity like the one that had presented itself on 20th January. Just like everytime l see a njiba, it reminds me of the opportunity l lost 30 years ago, am sure everytime HH hears of a presidential election, he will always remember the opportunity he lost on 20th January 2015. In the meantime, congratulations to the PF for scooping all the 3 parliamentary by-elections in Chawama, Masaiti and Nsenga Hill.
Credit – Sean E. Tembo