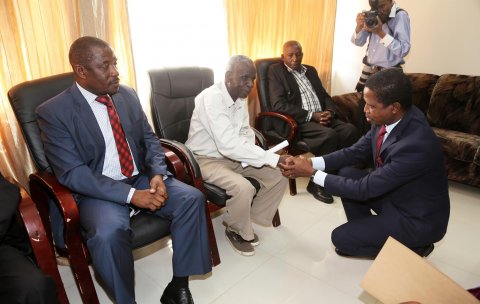 Chiefs in Muchinga Province have appealed to President Edgar Lungu to consider creating four more districts in Mpika District for easy administration and provision of services to the people.
Speaking on behalf of other chiefs yesterday when President Lungu met Seven Mpika based chiefs, Chief Chikwanda of the Bemba people of Mpika said Mpika District is too big and traditional leaders have suggested that it be divided into four more districts.
President Lungu met the Chiefs before he proceeded to commission the Michael Chilufya Sata hospital name in honour of the late President who hailed from Mpika.
Chief Chikwanda said that the suggestion to create four new districts in Mpika was communicated to the late President Sata before he died but there was no response.
Chief Chikwanda said Mpika is 42,000 square kilo metres almost the same size as Luapula province which is 47,000 square kilometres hence the need to create more districts to improve service delivery.
The traditional leader suggested the names of the districts to be created from Mpika as Mfuwe in Chief Nabwalya which is about 120 km from the existing district, Mpepo which is 110 km from Mpika, Chalabesa 150 km from the district and Mununga which is about 110 km from Mpika in Chief Mpumba's chiefdom.
Chief Chikwanda said the Patriotic Front (PF) party manifesto talks about devolution of power and this can only be achieved if more districts are created.
And President Lungu said he is aware about the size of Mpika District and the challenges that it is faced with especially in line with administration.
President Lungu said Mpika is one of the districts that the Government wants to realign the boundaries and create more districts but that the first step was to look at the chiefdom boundaries.

And officially opening the hospital yesterday at a colourful ceremony that was also attended by thousands of Mpika residents including traditional leaders, President Lungu called on health workers to exercise patience and always show empathy when attending to the patients.
President Lungu also said that commissioning of Michael Chilufya Sata Hospital emphasizes Governments' commitment to providing cost effective quality health care close to the Zambian people.
President Lungu said that the provision of sustainable infrastructure is one way in which such could be achieved.
Phase one of the Michael Chilufya Sata hospital has been constructed at a cost of K10 million.

Works in Phase one included an administration block, out-patient department and radiology among other departments and works under phase 2 at a total cost of K19.7 have since commenced.
President Lungu said that the second phase which is expected to be completed in February next year will include construction of four medium cost houses, a maternity ward, a mortuary and a kitchen.
The President also reiterated Government's commitment and dedication to increasing the number of health facilities in the country.
And Speaking earlier, Muchinga Province Minister Mwimba Malama bemoaned the bad state of the stretch of the Great North Road between Chinsali and Nakonde.
Mr. Malama who is also Mfuwe Member of Parliament said the importance of the Great North Road to the economic development of the country cannot be over emphasized but that the state of some portions of the road leaves much to be desired.
Mr. Malama also thanked the Government for putting up such a wonderful health facility in Mpika and announced that plans were under way to construct similar structures in Mafinga and Shiwangandu District.
Mr. Malama also disclosed that construction of a General hospital in Chinsali is expected to start before the end of this year.
Other hospitals will be constructed in Shiwang`andu, Isoka and Mafinga districts.

And Senior Chief Kopa of the Bemba people thanked Government for the new hospital, saying that the facility will curb the health challenges that people of Mpika district having been facing.
Senior Chief Kopa who spoke through Chief Kabinga advised the people of Mpika district to safeguard the facility as it is of great benefit to everyone.